MANIAX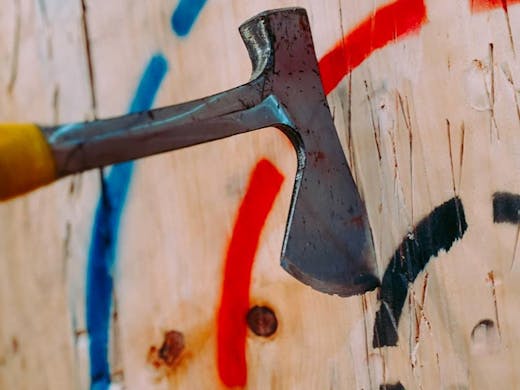 Axe throwing. It's a simple as it sounds. Basically, it's you hurling a hatchet at a wooden wall with all your might, channeling some kind of hectic viking lord, or maybe just the legendary woodchop champs of the Royal Easter Show.
However you want to see it, axe throwing is a thing you can do in Sydney should the mood take you in that direction.
And our premier pick for a spot of axe chucking in Sydney? MANIAX in St Peters is absolutely your best bet. Grab a bunch of mates together and get ready for MANIAX's "axe-perience". You'll start with individual coaching and target practice before playing a tournament against your friends.
MANIAX is also Australia's only licensed ax-throwing venue, with food and beverage packages available to indulge in (after you wrap up your axe throwing, obviously). Book as a private group of six or more, or pop in as a smaller group and join in with a couple of strangers (read: new friends) and get throwing.
On Friday nights, MANIAX hosts date night sessions. Across two-hours, you and your significant other will get trained up before battling it out in a tournament against the other couples present on the night. Kinda sounds like an epic ice breaker or maybe a bit of tension release if being cooped up at home for a few months has you guys squabbling 24-7.
And, to help alleviate a bit of the stress, anxiety and tension we're all experiencing thanks to COVID, MANIAX has developed a super-special post iso deal. For a cool $75 you'll get access to a two-hour session that includes lessons, target practice, a round-robin tournament, pizza and a free bevvy. You'll just need to book (here) before June 30.
Whether its therapeutic, a bit of a fresh fitness style to chuck in the mix or simply some fun with mates, add a bit of axe throwing to your life.
Image credit: MANIAX
---