Manly Greenhouse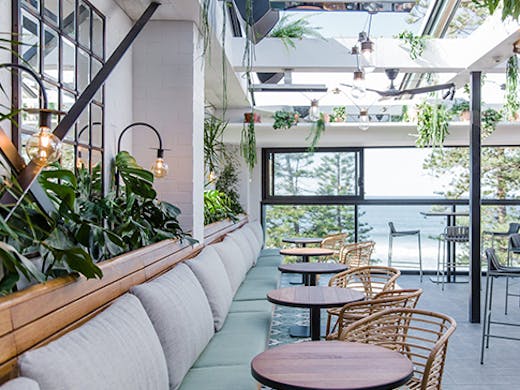 The verdict
Manly, you've just copped a seriously sweet waterfront venue, with the huge reno that has put the ol' Shore Club Hotel on a whole new level of beautiful. Consisting of three levels, every one as lush as the other, this new venue will offer a casual beachside bar and dining, a sizzling charcoal grill restaurant and a rooftop bar with quite honestly the best sea views going around.
The fit out is as beautiful as the locale which is unsurprising since it was done by the same genius design studio that looked after ACME and Banksii—Luchette Krelle. Expect all of the nature vibes, from the local plants (a collab between Manly Greenhouse and The Plant Room) and illustrations of native and indigenous flora by Beci Orphin. Basically, all you need to do is head here with your crew, settle in for the afternoon and soak up the view while catching shade under a canopy of ferns and enjoy some quality eats. Sounds good, no?
Now onto the food (that's why you're here, right?). You better believe there'll be a coffee counter, pizza oven and cocktails. We'll break it down for you—head here for your morning coffee or a cocktail on the rooftop. Or, you know, both.
The Ground Floor will be serving up the likes of crab bruschetta, grass-fed Riverina sirloin, pastas of pappardelle with slow-cooked brisket and seafood squid ink spaghetti. To top it off, there will be tipple on tap as well as pre-batched classics such as a Negroni or cafe Frizzante made with Vermouth.
You'll need to skip level two (The Grill is slated to open later in October) to make your way up to the Rooftop which preaches everything to do with hanging plants, panoramic views and an indoor cloud tree. Here you'll find bespoke cocktails and a bar menu with a selection of cured meats including LP's mortadella and Blackmore Wagyu beef bresaola and a heap of toasted sandwiches.
The Ground Floor is open seven days a week from 11:30am to late | The Rooftop is open Thursday through to Monday from 3pm until late.
Image credit: Supplied
---