Manly Wine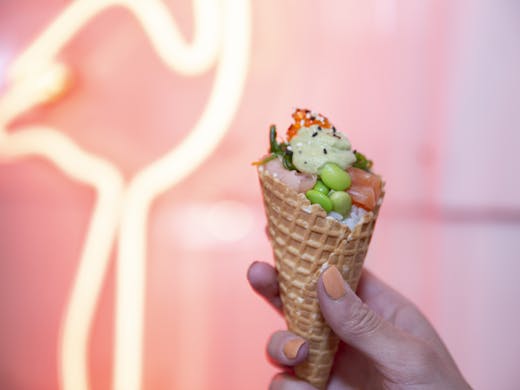 Here at The Urban List, we take food very (very) seriously and although some foodie trends are total gimmicks and a tad lacklustre, we can assure you that Manly Wine's recent menu additions are t-a-s-t-y and totally 'gram worthy. We're always ready to wrap our hands 'round the latest mouth-watering invention, and Manly Wine's kombucha cocktails and poké cones certainly fit the bill.
Feeling' peckish but don't want to commit to a button-bursting feed? These poké cones are where it's at. Easily mistaken for a scrummy gelato at first glance, there are two flavours of poké cones to tuck into: salmon ($10) and crispy tofu ($8). Soft and tender on the inside, crunchy on the outside, both poké cones are an unusual, but welcomed mix of both sweet and savoury.
An awesome way to wash 'em down? Kombucha cocktails, of course. There are three deliciously refreshing cocktails to choose from: Spring Sour (Bulldog London Dry, St Germain, lemon, rose, egg white, bitters topped with hibiscus kombucha), Cherry Pop (Makers Mark, lemon, original Kombucha and cherry) and the Kombucha Mule (Belvedere Vodka, mint, ginger and lemon kombucha).
But aside from poke cones and kombucha cocktails, Manly Wine has so much more to offer. Situated opposite the iconic golden shores, Manly Wine is the epitome of how a relaxed weekend should be. Drenched in natural light with idyllic views at every turn, it's the perfect spot to kick back and relish an after-work cocktail or an overdue weekend get together.
The menu is super scrumptious and diverse with a strong focus on fresh seafood. Our advice? Share the love and order a few dishes, 'coz food envy is inevitable. If you're after something light yet satisfying, the roasted Spanish mackerel with heirloom beets, goats curd, walnut and pomegranate is a must-try. If you're wanting something a little different, the lobster roll is in a league of its own with a poached crayfish tail, peas, dill, chopped chilli and kewpie mayo, served with rustic, crispy fries.
The team at Manly Wine never sleep either, 'coz it's open from 7am 'til late every day of the week ending in y. They also have an impressive list of special events and offers, as well as a pretty damn good happy hour too. Manly, we're a comin'!
Images: Yasmin Mund
---