Mary's On Top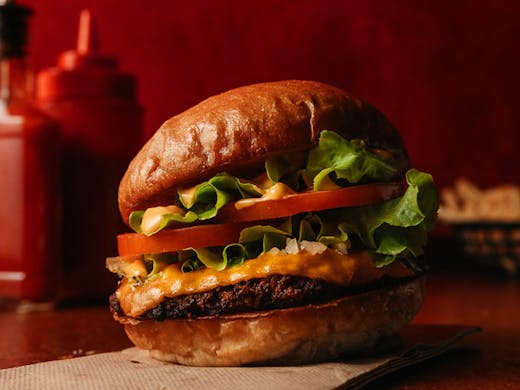 Just when you thought Mary's had already given us all the culture, burgers and vibes we could handle, they've gone and outdone themselves (again). Mary's founders Jake Smyth and Kenny Graham have opened Mary's On Top—a sky-high Mary's spinoff serving burgers, vegan burgers, beers, wine, sunshine and all the good stuff we love these guys for.
You'll find Mary's On Top on the roof of the Lansdowne Hotel, making it the final piece of the puzzle for Smyth and Graham's restoration of the sprawling Chippendale pub.
"Mary's On Top is literally our shining light," Graham told us.
"Like a solar panel that pumps life into the Lansdowne whilst its rooms remain empty. Without live music, The Lansdowne's energy is arrested. Mary's On Top allows us to slowly start the blood pumping again, and really send that message home that the Lansdowne is well and truly part of the Mary's family."
As for what's on the menu at Mary's On Top—it's all the tried and true Mary's faves, plus their vegan counterparts (the Mary's Burger, Cheeseburger, Cauliflower burger, half chook, mash and gravy—the works).
Beers and wine follow Mary's typical natural and local bent.
Will we ever see The Lansdowne's roster of gigs shift to the roof? "That's all up to the beautiful people at Sydney City Council!" Graham says. "Currently permissions do not allow that. Perhaps we'll just keep sending them a link to that last ever Beatles show on that rooftop until they get the hint."
Mary's On Top is a weather-dependent venue. Check opening hours via Mary's socials or the Mary's website.
Image credit: Mary's
---