MASHI NO MASHI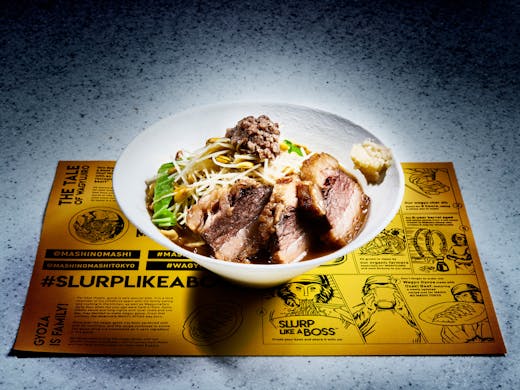 Sydney's ramen scene has reached new heights—maybe even a state of noodle soup euphoria—with MASHI NO MASHI.
The Japanese import is the headline ramen brand of Wagyumafia, the outfit responsible for creating Wagyu magic in Japan and Hong Kong with the holy grail of steak sandos: the Kobe Beef Chateaubriand Cutlet Sandwich. If you're not familiar, Wagyumafia is all about Japanese Wagyu, using only the top 1% of the finest Kobe and Ozaki beef farmed on a single farm in Japan.
MASHI NO MASHI Sydney is the brand's third international outpost, following Tokyo—and the first Wagyumafia venue in the Southern Hemisphere.
The name translates to "eat more and more", and no doubt that's what we'll all want to be doing when it comes to MNM's 100% Wagyu ramen, the highly sought after rockstar "WAGYUJIRO" ramen. It's made with an Ozaki beef bone stock that's stewed over 24 hours and topped with about 300g of Wagyu too—and is a favourite of celebs like David Beckham and Jack Dorsey.
As well as WAGYUJIRO, you'll also be able to fill up on Wagyumafia's famous fried Wagyu gyoza, made with 100% Ozaki beef and their signature "Wagyusco" hot sauce.
The 50-seater Sydney MNM venue will also be the first to score an accompanying izakaya menu, which features a Wagyu cha siu bao created especially for Sydney.
MASHI NO MASHI will open in Sydney in late May 2022.
Image credit: Wagyumafia
---