Mayfield Garden
CONTACT
Ph: 02 6336 3131
Visit Website
530 Mayfield Road 530 Mayfield Road
Oberon, 2787 NSW
Show on map
---
The Details
Perfect For
Those Water Views
City Living
Nature
Cuisine
Need to Know
Serving
In the mood for
Need to know
Hunting For
---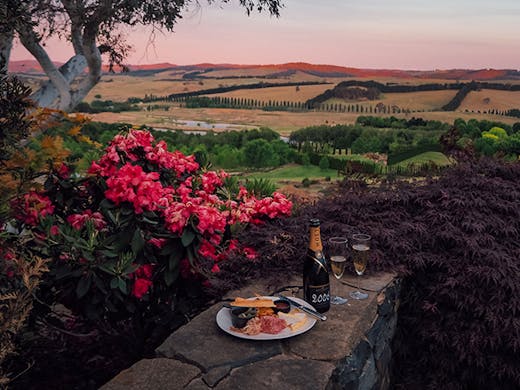 Just three hours out of Sydney, Mayfield Garden is a charming destination that's fast becoming the artistic and entertainment hub of the Central West. Brimming with tasty eats and idyllic gardens, Mayfield Garden has a smorgasbord of fun events and is perfect for a weekend city escape or your next big milestone.
A beautiful spot any time of year, Mayfield Garden is well-known for it's annual National Cool Climate Wine and Food Festival in spring. Teeming with gourmet food trucks, fresh produce, tasty wines and live music, the one day event is a total vibe and is fit to rival any Sydney food markets. They also offer bus transfers from various destinations, so you can swirl, sniff and sip 'til your heart's content. Did we mention it's only $35 a ticket, which includes your very own wine glass. Sign us up!
The idea of camping and bushwhacking might not get everyone immediately amped, but swap that 'c' for a 'gl' and boom! You've piqued our interest.
For limited seasons, Mayfield Garden offers a pop-up glamping experience, and it's seriously stunning AF. You and your pals can kick back, tuck into a tasty charcuterie board and enjoy a delicious drop while you soak up the tranquillity and majestic surrounds of the gardens. I mean, sounds pretty unreal, right?! Each glamping tent is totally Insta-worthy with a luxurious queen bed, plush linen and rugs, AND you can toast smores for dessert at their smores station (*squeals)! Consider our schedule cleared.
But glamping is only the beginning. If a wedding is on the horizon, then Mayfield Garden is not to be overlooked. The unique space can cater up to 250 guests for a gorgeous ceremony and reception, and pretty much guarantees wedding photo envy.
And, no matter how green your thumb is, Mayfield Garden will floor even the most heinous plant killers. Made up of two main garden areas, Mayfield and Hawkins' Family Garden, the grounds are so picturesque you'll feel like you're at Buckingham Palace rubbing shoulders with ol' Lizzy or in one of Claude Monet's paintings. Laden with French Lavender and beautiful blooms, the gardens are blissfully aromatic. There's even a cascading waterfall you can walk behind and a giant geometric English Box Hedge Labyrinth to wander through (YAS).
That's it, get the gumboots – we're going glamping!
Images supplied and by Georgia Rickard, Domino Houlbrook-Cove and Andrew Davis (Brocklesby Images)
---