The Meat & Wine Co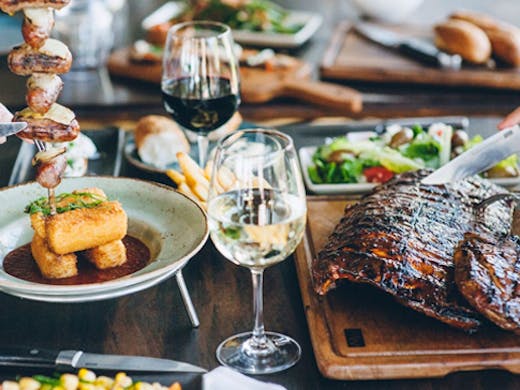 The Verdict
The Meat and Wine Co have been making our steakhouse dreams come true for years, but the newest member of their tribe is set to blow us away—again. Tucked in the freshly renovated Barangaroo complex, your new favourite meat hub has fused the traditional historical Aboriginal design with their own modern South African flair, and it's a damn delicious combination if we're being honest.
For a meat party like no other, their steak menu includes a 1.5 kg Wagyu T-bone to share (or maybe not?), and a 300g Hanger steak dry rubbed with native peppers. If you're not quite up to that challenge, then you'll be pleased to know that the bar is also bringing the goods. Think biltong poppers on horseradish aioli or South African smoked cape hake cod with a charred jalapeño puree. We'll also be putting in an order for a full rack of pork ribs, slathered in their signature basting—because we are up for the challenge and we're damn proud of that.
A new home means a new menu—and ringing true to the history of the location, seafood is the star of the show (sharing the limelight with the steak, obvs) and includes a crustacean platter, which is accompanied by their boutique white wine list. Between the distinctively South African flavours of Pinotage and Cape Blends, AND a private whisky room, The Meat & Wine Co will more than meat your expectations, we're sure of it (see what we did there?).
Image credit: The Meat & Wine Co
---