Mecca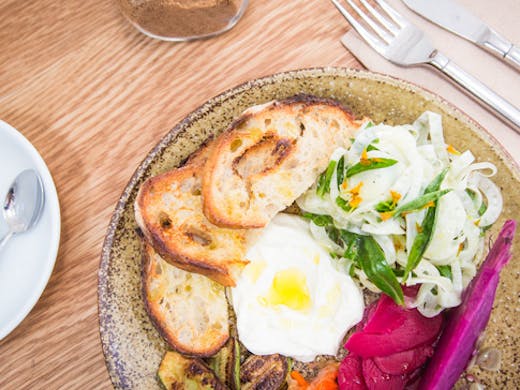 the verdict
It is no secret that Mecca does fantastic coffee for Sydney – they've been doing so for the past ten years! But Mecca Alexandria's Darkhorse blend, roasted and brewed on the premises (and what a premises!) is not your average coffee. With hints of chocolate, peach, and wine, Darkhorse is a clear winner.
Matching the tasty tastiness of their coffee, Mecca's décor is as tasteful as anything. Decorated with ornate brass fittings, monochrome tiling and wrought iron railings, Mecca Alexandria is the most luxurious warehouse you'll ever see.
Come for the coffee, stay for the décor, move in for the food. Marked by high-quality, ingredients prepared in-house, even the table butter is homemade at Mecca. Try the beef brisket, served with white bean purée and an artful arrangement of neon pink sauerkraut, accompanied by some smashed kipfler potatoes for a smashing good lunch munch.
Image credit: Daryl Kong
---