Motto Motto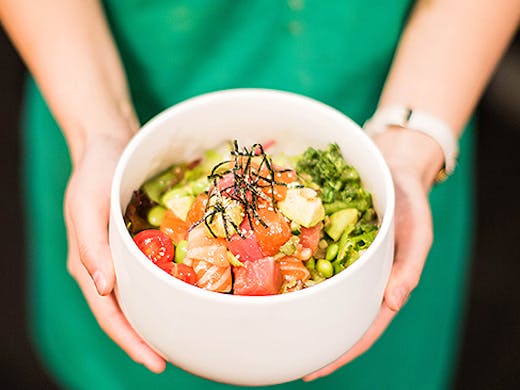 The Verdict
Whenever we get word that a new Japanese joint is opening in Sydney, we pretty much line up at the front door. So imagine our excitement when we heard that Motto Motto (aka one of Brisbane's best) was moving into Macquarie Centre. Spoiler alert: excitement levels were unbelievably high.
Motto Motto celebrates the colours, quirkiness, and deliciousness of Japanese cuisine and culture and we're all about it. The fit out packs a serious punch with bright colours and a uniquely geometric space. The food is fresh, local (winning!) and brings fast, authentic and, most importantly, the fun Japanese goods straight to your mouth.
Prepare yourself for build-your-own bento boxes, ramen (their 12-hour pork super stock is life-changing), Japanese brioche rolls, seaweed dusted fries, crispy kaarage, and perfectly spiced Japanese curry. Yes, you'll need to order one of everything.
If you're a lover of poké, they do a killller sashimi salmon bowl but if you'd rather go down the traditional path, there's chicken teriyaki, ramen and chicken karaage curry boxes to choose from. All with miso soup, of course.
Green tea soft serve ice cream is the only dessert you need in your life so don't go home without ordering at least two. We don't judge.
Perfect for your weekly casual date night or a quick lunchtime feast, Motto Motto is a must on every foodie's bucket list.
Image credit: Claudia Schuemli
---