MuMu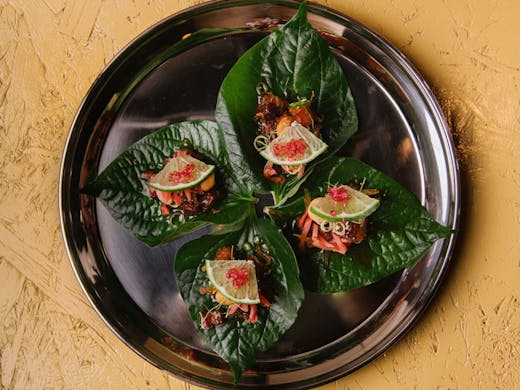 The Verdict
There's no midas touch in Sydney's hospitality scene quite like Dan Hong's. The juggernaut food god is the executive chef behind Merivale venues Mr Wong and Ms G's and now, he's heading up a brand new late-night venue at the ivy's burgeoning dining precinct.
Born out of a week-long culinary trip in 2019, MuMu is the younger sibling to Potts Point prodigy Ms G's, injecting South East Asian street food straight into the beating heart of George Street. Under the command of Dan Hong, with head chef Oliver Hua in the kitchen, here the vibe steers away from the tired Asian Fusion concept.
At MuMu, Hua works from an open kitchen that offers front row seats to patrons sitting at the kitchen bar, soaking up the sights and sounds of flaming woks and even ordering directly from a chef. You need to try the "Prahok Ktis"—a small plate inspired by the head chef's Cambodian mother-in-law that showcases a relatively unheralded cuisine in Australia. Consisting of spicy pork and fermented fish dip, pea eggplants, and seasonal crudites—it's a real treat.
Hua also recommends a couple of must-dos for shared meals at MuMu. To start off, order up some sweet pork betel leaves, served with dried shrimp, macadamia, salted lime, finger lime, ginger, scud chilli, and lemongrass—a merry wedding of flavours and textures to kick off the dining experience.
And for something larger, try the signature grilled and glazed Angus short ribs, which are sous vide for 12 hours overnight before being chargrilled for plenty of smoky flavours. They come served with sambals, lettuce leaves, herbs, pickles, and various sauces—go all in with your hands and DIY.
To drink, the list of cocktails on offer is similarly based on Southeast Asian flavours, like the "Lost in Bangkok", with gin, white rum, watermelon, and lychee. You'll also recognise Ms. G's "Yuzu Slushee", a now famed frozen concoction of vodka, yuzu juice, and orange bitters.
Image credit: Merivale
---