Nelson Road Tuck Shop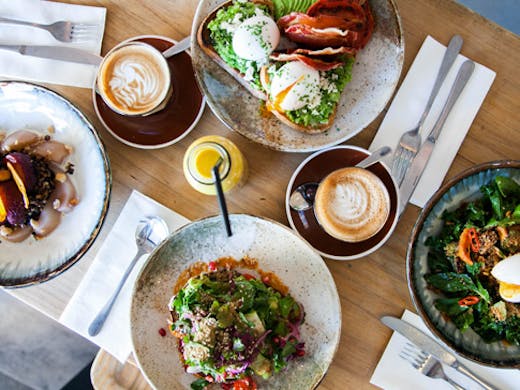 The verdict
Whoever said that fast food can't be wholesome has never been to The Nelson Road Tuckshop. Designed as a tasty, not to mention healthy, fast food joint for adults, the team here pride themselves on a more sustainable and balanced approach to food. This means food that's not only good for you but that tastes so good it rivals those things you eat but know you really shouldn't.
The one thing you won't find at The Tuckshop are buzz words when it comes to how they talk about food. Head Chef and co-owner Corinna is passionate about moving away from the stigma of fast food, stopping us from cutting out the things we love (can we get an amen) and instead sourcing only the very best and most seasonal, high quality ingredients so you can make delicious choices sans the guilt.
Nearly everything here is made onsite at this bakery-come-café-come-grocery store and it's highly likely you'll also find something new on the seasonal menu from time to time. There's everything from a mighty fine avocado smash on their very own quinoa and black barley sourdough to a truly Insta-worthy buckwheat beer and rye porridge.
Our top picks start with their namesake, The Tuckshop Breakfast with seasonal smash on house made sourdough, confit tomatoes, crispy pancetta, avocado and soft boiled eggs, it literally combines the best of everything. Their green breakfast salad won't leave you hungry with coconut sautéed kale, their house made green lentil and quinoa felafel which, just quietly, is some of the best we have ever tasted, topped with corn, spiced sweet potato, pickled chillies and soft boiled egg finished with Sri Lankan curried coconut.
These guys are a bakery café so prepare for all of the baked goodness you could dream of, including fresh croissants, cinnamon scrolls, gluten free treats and triple berry and vanilla custard doughnuts. Ummm yum much?
There's a range of colourful superfood smoothies, all made fresh in house with exactly what is listed on the label. Choose from green, a mix of avocado, cucumber, celery, kiwi fruit, mint, lemon, and coconut or the red with beetroot, basil, mixed berries, mint, lemon, red grapes, dates and coconut, the mocha if you need a caffeine hit, or, if you're detoxing, throw back a yellow with fresh turmeric, fresh ginger and all the other good stuff your body will thank you for.
Image credit: Federica Portentoso
---