Okami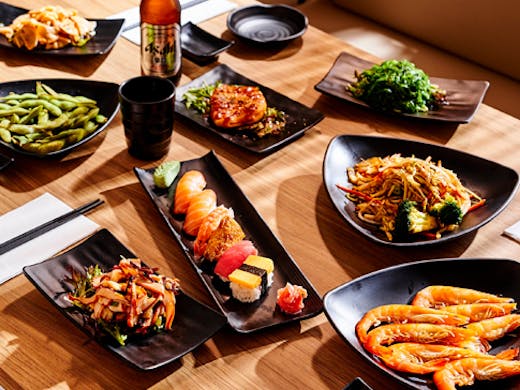 The Verdict
Sometimes, all you need to do is knock back as much sushi as humanly possible and then sit and revel in your food-induced coma. That's where Okami comes in.
This guy is a big deal in Melbourne and now the team has decided to set up shop in the heart of Marrickville, plating up over 30 different Japanese dishes and a bottomless deal that's almost too good to be true.
Everything at Okami is made fresh to order and to share. The a la carte selection covers the likes of lightly seared beef carpaccio, crunchy Karaage chicken, crispy Agedashi tofu with fish flakes, and steamed velvety egg custard (also known as "Chawan Mushi") with chicken and soybean.
You can also load up on a heap of freshly sliced sashimi and sushi platters, crumbed chicken katsu with a tonkatsu sauce, or Takoyaki—crispy fried balls filled with diced octopus and tempura.
The all-you-can-eat option will only set you back a cruisy $34.80 per person. You'll be able to chow down plates full of edamame, prawn gyoza, veggie spring rolls, chicken skewers, miso steak, soba noodles, curry chicken, and even green tea and black sesame ice-cream. You'll get two-hours to sample as much as you physically can—so make the most of it.
For those that don't have time to dine-in, the takeaway menu features one hell of a pork katsu don, a variety of bento boxes with tempura prawns or teriyaki salmon, and fried udon bowls loaded with vegetables, beef, or chicken.
And while it's a dinner-only affair most days of the week, Okami is open for Sunday lunch.
Image credit: Michael Woods
---