Ora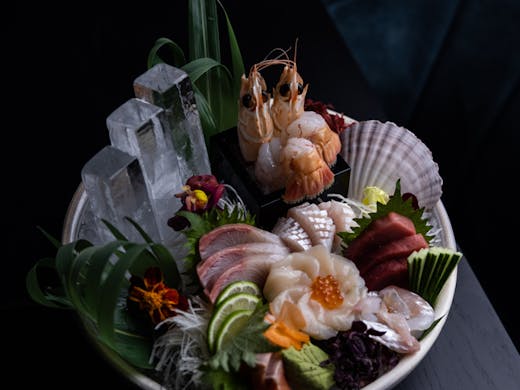 Behind a revolving door on Danks Street in Waterloo, Ora is three venues in one, housed within an enormous warehouse space.
In the centre, a long stretch of marble makes up the sushi and raw bar; towards the back, a Japanese cocktail bar with velvet lounges and a canopy of twinkling lights; and to the right, a 10-seater kaiseki omakase helmed by former Sushi E chef, Nobuyuki Ura.
The set menu-style omakase has been designed by Ura himself and is a multi-course spectacular, beginning with "zensai"—a Japanese-style tapas that features delicate snacks like foie gras chawan mushi and charcoal grilled taro with Kinome miso.
From there, you'll be treated to dishes like a snapper-wrapped prawn dumping, plates and plates of sashimi and nigiri diced and prepped before your eyes, Imperadore fish smoked in cedar paper, and a particularly special lobster red miso soup. Pair it all with a selection of matching saké, and it doesn't get much better than this.
Over at the sushi bar, you're able to order a la carte—but the finesse in each dish is just as good. Begin with starters like Balmain bug tempura san choi bao and Wagyu beef tataki before you go deep on sashimi, sushi, and nigiri prepared by Ora's team of talented sushi chefs. There's also yakitori prepared on the charcoal grill. For dessert? Matcha tiramisu and cherry blossom ice cream both make an appearance.
Image credit: Jude Cohen
---