Oxford House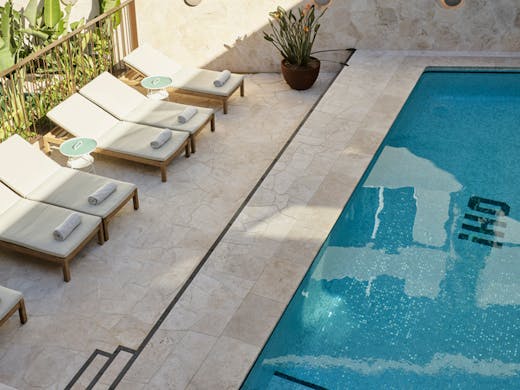 Gone are the days when Sydney's hotel scene was scarce and sometimes uninspiring. Oxford House is the newest boutique hotel to join the city's growing collection of cool places to stay.
You'll find Oxford House (or, OH! for short) straddling Oxford Street in the heart of Paddington. It's a primo location for some of Sydney's best shopping, cafes, restaurants, and bars, as well as being close to the CBD and close enough to beaches like Bondi and Tamarama.
That said, you may not want to leave Oxford House, thanks to its sunny courtyard pool, poolside bar, and all-day diner.
The Palm Springs-inspired hotel features 56 light and bright rooms and suites, each adorned with cool accessories like custom Double Rainbouu bathrobes (the Double Rainbouu boutique is across the street), Marc Newson crockery, Grown Alchemist hair care, and retro Marshall amp-inspired speakers. Larger suites have lounge areas and balconies too.
Original artworks, curated by George Gorrow of Ksubi fame, are peppered throughout the hotel—including paintings, photography, collage, and sculpture, from artists like Lena Gustafson, Adam Turnbull, and Niah McLeod.
The street-level all-day diner is a destination in itself, open to guests, locals, and the wider public. Led by executive chef Tyler Preston (ex-Chin Chin), the vibe is relaxed and the food is tasty modern Australian with locally sourced and organic ingredients. For breakfast, it's an "OH-melette" with woodside goat curd, ricotta and spelt hotcakes, and chilli scrambled eggs. There's Will & Co coffee, teas by La Maison Du Thé, cold-pressed juice by Paddo local Simon Says, and some boozier options like an OH! Bloody Mary.
For lunch and dinner, you'll see freshly shucked oysters, a southern fried chicken sandwich, grilled market fish with hazelnut puree, burnt butter, and leek oil, and roasted cauliflower with miso glaze and crispy kale.
At the pool bar—also open to the public—you can sip signature grapefruit Negronis our Yuzu sours to the sweet sounds of local DJs while you recline on Palm Dessert-inspired loungers. There's also a digital art show in the pool each Friday, Saturday, and Sunday night.
The Oxford House pool bar and restaurant are open from 7.30am - 11.30am and 12pm - 8pm.
Rooms start at $229/night. Book your stay here.
Image credit: Oxford House
---
You May Also Like
Travel
Sydney, NSW
When it comes to choosing a hotel in the Sydney CBD, you really are spoilt for…