Papa Pasta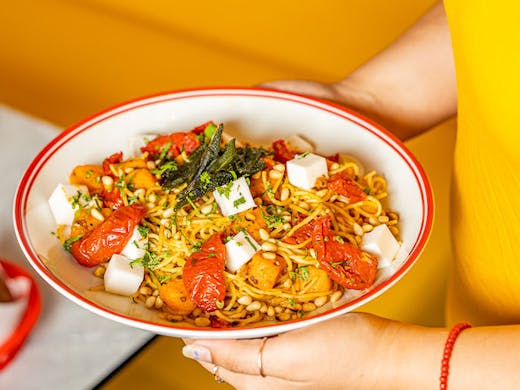 Good news pasta fans, a no-fuss Italian joint has opened in Wentworth Point and it's worth checking out ASAP.
Opening in late 2021, Papa Pasta is Sydney's first 100% Halal Italian restaurant and it has some major talent behind it. Celebrity chef Danny Russo has consulted on the menu and the kitchen is headed up by ex-Merivale chefs, so you just know the food is going to be mighty tasty. Better yet, it won't cost you a small fortune.
As the name suggests, it's all about the pasta at this kitsch diner. There are 13 pasta dishes in total, including old-school beef lasagne, prawn fettuccini, truffle mac 'n' cheese, wild mushroom pappardelle, and spaghetti and meatballs. And there are some rule-breaking dishes, too, like the spaghetti topped with chicken parmigiana. What would Nonna think?
You'll also want to load up on bruschetta, Panzanella salad, and the ciabatta with truffle butter and melted mozzarella. Basically, if you're not rolling out of here, you haven't truly experienced Papa Pasta.
In terms of decor, Papa Pasta is homey and jolly, particularly with its yellow booths and red neon sign. Think retro cafeteria vibes where it's all about the food.
Image credit: Papa Pasta
---
You May Also Like
Restaurants
Sydney, NSW
If you love flavour and sharing a spontaneous meal amongst fifteen of your favourite…