Paski Vineria Popolare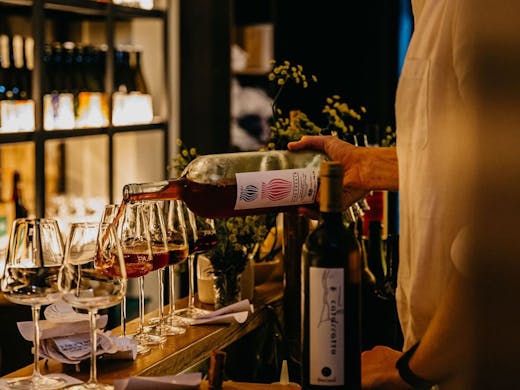 Owner of Surry Hills institution121BC and co-founder of Rootstock, Giorgio De Maria is one of Sydney's most innovative voices in wine. You could call him the godfather of natural wine—he was one of the first to really hero the category in Sydney long before it earned a spot on most wine lists across the city.
Ever the innovator, De Maria has a fresh wine concept for Sydney called Paski Vineria Popolare. It's a two-storey restaurant, bar, and bottleshop, created in partnership with Mattia Dicati (Vino Mito Wine Imports) and chef Enrico Tomelleri (Ragazzi, Alberto's Lounge, 10 William Street), just casually.
Housed within the former This Must Be The Place cocktail bar, which has been reimagined by Jad Silvester of Silvester Fuller architects, downstairs features a small bar and a whole lot of artisanal small-scale Italian wine. About 400 bottles imported by De Maria and Dicati will be displayed on shelves designed by Sydney-based artist Dion Horstmans. Pick a bottle and sip it at the bar for a small corkage fee with a little charcuterie or cheese, or grab one to go.
Upstairs, you'll find a pint-sized restaurant—Paski Sopra or Paski "above"—where Tomelleri will be weaving a little a la carte magic in the form of handmade pasta and Mediterranean seafood. As well as the selection of vino downstairs, you'll also find rare and special wines. On Wednesday nights, Paski Sopra upstairs will be dedicated to wine tastings.
"We can't wait to have a physical place where everything is in one spot," says De Maria. "Where customers can learn about and buy something from the person who sourced the wines themselves, and who knows each producer well. We're offering a direct link to these winemakers, which will make for a really special experience."
Paski Sopra is open for dinner on Monday, Tuesday, Thursday, Friday, and Saturday from 5.30pm till late. Wednesdays are reserved for tatsings.
Image credit: Nikki To
---