Pizza Madre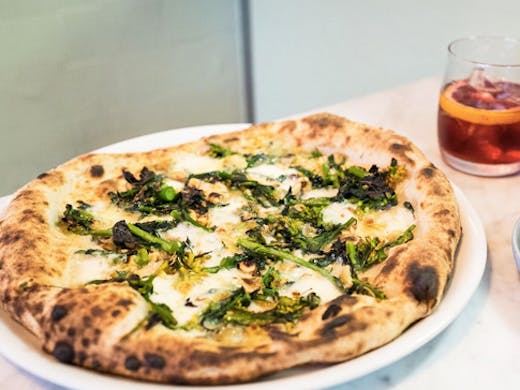 THE VERDICT
Pizza Madre is the bambino of Italian restaurants that call Marrickville home and FYI, it's all vegetarian and by the same legends behind Two Chaps. Excited? Well yeah, you damn well should be. So when the hanger pangs set in, pop down to this place, where the wood fire oven's roaring –you know what that means: all of the delicious pizza.
You may need to line up with the rest of Sydney's Two Chaps fans but we promise it'll be worth the wait to snag a seat in their cozy 35-seat dining room. Although the alternative would mean this bad boy becoming your new favourite takeaway joint. Is there any better way to end the week than by following your noise to the corner store of your Italian dreams to pick up what we like to call a taste sensation, pizza style? Nope.
There's nothing flashy about this place and that's exactly how we like it. They're nailing one of our fave comfort foods, with all dough made daily by hand using sustainable and organic Australian flours, ditching commercial yeast in favour of a sourdough starter. This is the point where you convince yourself that this place is a health food restaurant.
The menu has only six pizzas with a shake up each week but one thing you can count on is a variation of the ol' margherita with smoked buffalo. From the Madre margherita with smoked buffalo mozzarella, fior di latte, basil, fresh oregano and extra virgin olive oil to the OTT margherita with rich portobello mushroom, Jerusalem artichoke and fior de latte topped with smoked-cauliflower hummus. BRB, we have pizza to eat.
Image credit: Caitlin Hicks
---
You May Also Like
Restaurants
Haymarket, NSW
While underneath Central Station mightn't be the first place your mind goes to…
Restaurants
Haymarket , NSW
Sydney's era of new hotels has brought with it a collection of very excellent…