Public House Petersham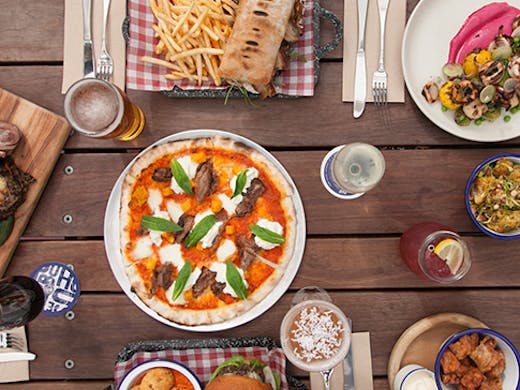 The verdict
Public House Petersham may not be the new kid on the block anymore but it sure is the kid you want to be making friends with. After a revamp in in 2015, this Sydney venue has been ticking all of our 'things that make a good pub' boxes. And, believe us, those prerequisites are pretty hefty but PHP has us convinced.
First there were the beard-offs and beer bake-offs. Now, with even more recent upgrades, they've built a social common room with pool tables and a huge projector where movie nights will be hosted—think giant bean bags with booze on tap.
There's even a games arcade for all of those epic pre-dinner pinball battles and to top it off, a dance party area disguised as a car park. For big events like Anzac or Australia Day, said carpark comes alive to bring residents of Stanmore Street the best block party it's ever seen, with drinks being served out of an old shipping container and the colourful graffiti splattering the surrounding fence making an awesome mural for all your jealousy inducing selfies.
The huge beer garden is home to a wood-fired pizza oven, where you can watch the mouth-watering and very creatively named pizzas being made. We're talking pizzas like The Cheesus Christ or the Baby Don't Herd Me—with lamb, mozzarella, ricotta and mint adorning the base.
For something more substantial, "The Beast" comprises daily meaty specialties as chosen by the chef to suit the season. Or, if it's a good lunch deal you're after, you can expect to see things like roasted pork belly roll with ranch slaw and BBQ mayo fries for only $15. The specials menu changes daily so you can try something new on the reg.
Don't get too carried away with the savoury offerings though, because room needs to be saved for dessert. The blood orange crème caramel with rhubarb compote and a little surprise of flowerless chocolate walnut cake inside is worth skipping on the extra fries for. Big call, we know.
Inspired by the industrial warehouse designed spaces of Brooklyn, Public House Petersham is the epitome of cool. Time to make this your new local.
Image credit: Federica Portentoso
---
You May Also Like
Bars & Pubs
Sydney, NSW
Found on level eight of Swissôtel Sydney in the heart of the city, Arches on…
Restaurants
Bondi Beach, NSW
Bondi's now home to a little slice of France, with Chouchou serving an…