Queens Hotel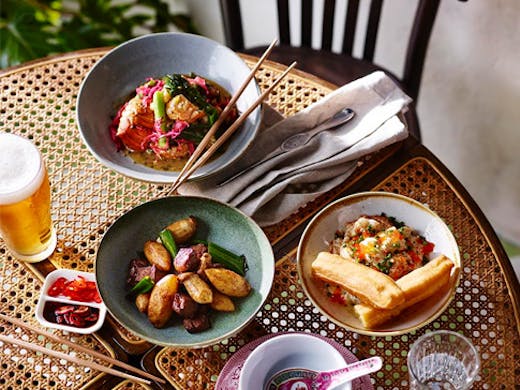 The verdict
Merivale has continued their takeover of Sydney this week, with their newest venue, Queens Hotel opening its doors in Enmore. This one is a two-for one, with two distinct areas, Queen Chow and The Smelly Goat and between them; you and your belly will be well looked after.
On the pans is dynamic trio Christopher Hogarth (of Papi Chulo), Patrick Friesen (formerly Mr Wong) and Eric Koh. They've been hard at work creating a menu that honours the classic flavours of Hong Kong's famous street kitchens at Queen Chow. They're not so interested in serving tricked out food, but rather, they've filled the menu with delicious dishes made from quality ingredients. Think South Australian pippies with black bean, chilli and Tsingtao or typhoon shelter crab, which is deep fried with garlic, chilli, black bean and pulp from soybeans.

Upstairs, at The Smelly Goat, you'll find a menu of classic cocktails with a twist, created by Bar Manager Harrison Westlake. Harrison has played around with flavours that aren't commonly found behind the bar, so you can expect cocktails like the dutch courage (carrot, Maker's Mark and white wine), or the moloko plus (crunchy nut milk, white rum and cardamom).
Image credit: Queens Hotel
---