Rekōdo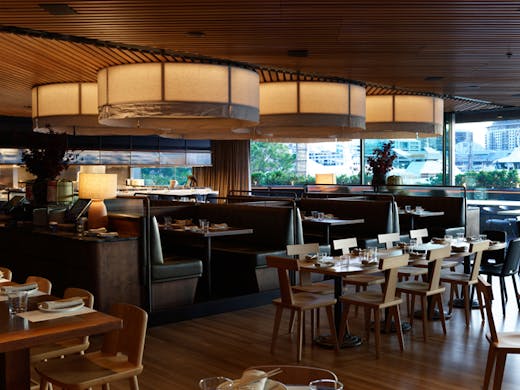 Picking up where Bea left off in the iconic noodle bowl-shaped Barangaroo House building, Rekōdo is a restaurant and vinyl bar inspired by Japanese listening rooms.
Rekōdo—Japanese for record—will be as much a listening experience as it will be a spot to sip sake and fill up on fiery red miso sesame eggplant.
On the sonic front, the venue has been equipped with two Klipsch La Scala AK5 speakers, a McIntosh MC152 amplifier, a McIntosh MP100 Phono Preamp, and a set of McIntosh MT2 turntables. Tunes will switch between live vinyl DJs, Rekōdo's catalogue of vinyl, and guest musical curators—from Donny Benet to Meg Mac and Lazywax.
Head chef Paddy McDermott's Japanese-inspired menu is fun and energetic. Think DIY temaki hand rolls, wagyu tataki with ponzu and onsen yolk, modanyaki noodles, and pickled watermelon with ume.
Sydney loves an omakase—and if you whisper the word, the chefs will curate a playlist (read: menu) for you.
To drink bar manager Pauric Kennedy has sake flights, signature cocktails like the elderflower, tangerine and brown sugar umeshu-laced Tokyo Tipple, and Japanese whisky too.
Image credit: Steven Woodburn
---