Richmond Inn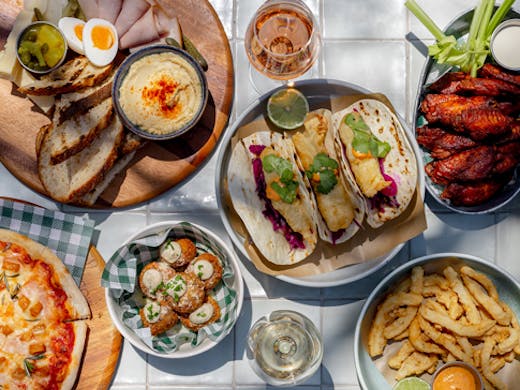 The Verdict
It might seem unlikely that you could find a mega beer garden, a glass atrium, a public bar and a bistro all in one place but Richmond Inn's brand new multi-million dollar transformation has made the impossible well, possible.
The inn's relaunch has been in the good hands of the award-winning hospitality group Tilley & Wills, the crew behind the likes of Sydney venues including, but definitely not limited to—Buena, Greenwood, and the Verandah Precinct. Located directly across from the train station in Richmond, about a one-hour drive from the heart of Sydney, not only will you now find a plethora of different areas to wine and dine in, but you'll also be in for a stellar feasting line-up curated by absolute chef royalty Brad Sloane.
"We wanted to create a menu that was approachable with something for everyone that uses fresh and good quality ingredients and is all home-made," says Sloane.
"Something that reminds people of a home-away-from-home and takes them back to the classic pub days! The Richmond Inn has been an institution in this area for many years so we wanted to pay tribute to that too with keeping the pub classics such as the schnitzel on the menu and $5 happy hour spirits but with the Tilley & Wills twist."
And with that, the menu is piped with one hell of a Sunday roast featuring all the trimmings, three separate types of parmigiana (classic, Hawaiian and BBQ pig), and freshly-baked one-metre pizzas. You'll also be able to dig into a pretty hefty burger list—there are six variations to sink your teeth into starting with anything from a classic cheese, going up to what's known as a "Fat Ricky", a sticky stack loaded with double beef, double cheese, bacon, pickles, hickory BBQ sauce, and onion rings.
For the daytrippers, a seriously tasty sundowner smorgasbord is due to hit your taste buds here, think—all kinds of cocktails, Sydney rock oysters, buffalo wings, spring rolls, barramundi tacos and a ploughman's board, naturally.
There's also a dedicated "juggy hour" on Saturdays from 7pm - 9pm with $15 house beer and cocktail jugs, as well as all the usual beer suspects with everything from your Vitamin B to your CC & Drys on tap.
There are also already plans to lock in a whole lot of live gigs, DJ sets, and foodie events at The Richmond Inn too, says Sloane.
"In the future, we'll be looking at exploring some exciting outdoor cooking experiences such as interactive smoker sessions ."
Image credit: Richmond Inn
---