Saint Peter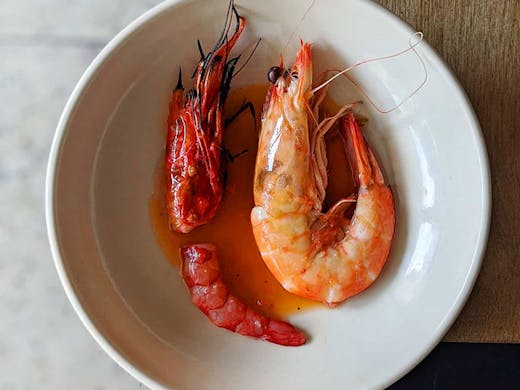 UPDATE, MAY 2022: Josh and Julie Niland have today announced they will be relocating Saint Peter.
The duo will be shifting their famed fine diner around the corner into the recently refurbished Grand National Hotel at the corner of Underwood and Elizabeth Streets in Paddington.
The Nilands have taken over operations of the whole pub too—and have grand plans that include a 14-room boutique hotel.
At The Grand National, Saint Peter will occupy an opulent 45-seat dining room, complete with an open kitchen, wood-fired grill, and display cabinets filled with fish charcuterie.
There'll also be a separate bar and bar menu for pre and post-dinner drinks and more casual dining for lunch and dinner.
Finally, the Niland's will level up the Saint Peter experience with both a 15-person private dining room and a 14-room boutique hotel.
It's all due to open to the public later this year (summer 2022/2023), and Saint Peter on Oxford Street will continue to operate until early 2023.
"362 Oxford Street has been our home for 6 years and we have achieved a lot as a team within those four walls," the Nilands said in a statement.
"However the opportunity to create a more expansive and accessible dining experience for our guests and creative opportunity for our team is incredibly exciting."
***
In 2016, Chef Josh Niland caused quite a stir when he opened his first solo restaurant at the age of 27 with a mission to re-invent seafood.
The whole approach at Saint Peter, which has since earned Niland some serious international culinary cred, is designed to make you think differently about what fish can be and uses every conceivable part of the Aussie-only raw materials to achieve it.
Since opening Saint Peter, Niland has written two books (The Whole Fish Cookbook and Take One Fish); opened two outposts of his Fish Butchery fish shop concept, and one charcoal chicken-inspired takeaway shop, Charcoal Fish.
Saint Peter is the main event for the pioneering chef—and it's here that you'll get to experience the sheer magic of his approach. The current lead actor on the menu at Saint Peter is a whole John Dory cooked in bull's kelp and served in a sauce made of its own bones and roe. That's the kind of inventiveness you can expect to sample when you visit.
Image credit: Saint Peter
---