Scallywaggs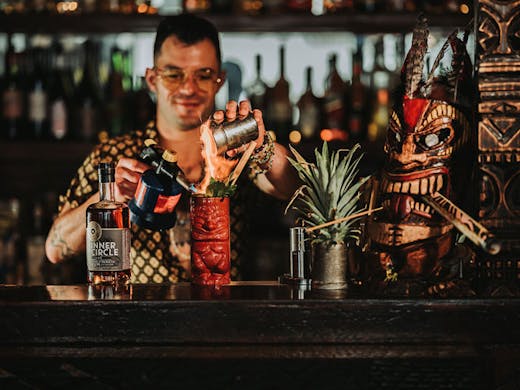 For fun vibes, Hawaiian shirts, and paradise-inspired cocktails, Scallywaggs tiki shack is one to add to your list.
From Collin Perillo, who's worked at London's famous Mahiki bar, Scallywaggs is a self-described Hawaiian steakhouse, and the food menu ticks off ribs, ceviche, mango salad, oysters, and more. There's salt and pepper squid with passionfruit sauce and rum-blazed crème brûlée for dessert.
As for those cheeky tiki cocktails, this list has been inspired by the godfather of tiki—Donn Beach. The "Beachcombers Gold" is a rum adaptation of the classic martini; there's a true take on Beach's iconic Zombie cocktail, a Planter's Rum Punch, and something called "Dr. Funk" named for the Samoan doctor to Robert Lewis Stevenson, author of Treasure Island.
Image credit: Scallywaggs
---