Scout Pilates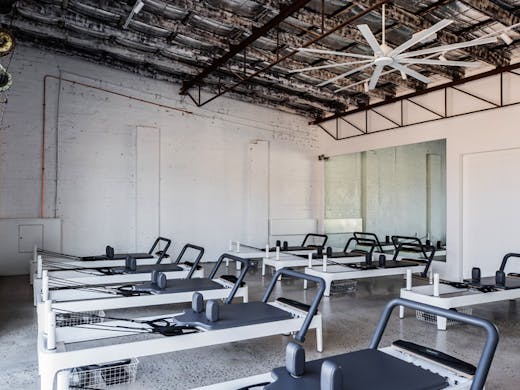 Pilates can be pretentious, intimidating, exclusive and really (really) expensive. Sydney's newest Pilates studio stands out from the crowd because, well—all of these things it is not. Created by nutritionist, Pilates instructor and design grad Lucy Beaumont, Scout Pilates has more of a fun and inclusive community feel, set within a beautifully designed converted warehouse space at the south end of King Street.
"We're not about sculpting your 'summer body'," Beaumont says. "We're here to teach you stability, strength and flexibility, from which springs confidence, glow and happiness."
Scout offers mat, reformer, jump board and barre classes, each using a variety of equipment to build up your balance and strength. There's something for everyone, and all skills are welcome too. For reformer classes, you'll get to perfect your leg circles on top-of-the-line Balanced Body's Allegro 2 reformers. Otherwise, you'll be using small apparatus props, the ballet barre and your own bodyweight to realign your body and work to feel more balanced and strong.
Classes range from "Reformer Essentials" (for newbies) to "Body Blaze" (intermediate). "Power Jump" uses a jump board as the main prop, while "Go with the Flow" is mat-based, focusing on stretching and lengthening the body's muscles and ligaments. "Barre Burn" is a fast-paced Pilates class, using the ballet barre and props to deliver a sweat-all-over, dynamic full-body burn.
The "Contour + Condition" class is inspired by Lucy's time teaching at East River Pilates in Brooklyn. You'll move through sequences designed to tone and improve muscular strength, flexibility, endurance and coordination. Lastly, "Mums + Cubs" is ideal for new mums looking to find their core and confidence after having a baby
Awesome, upbeat music is also a must for Beaumont—so you'll be vibing your way through class, as opposed to sweating away in dreary silence.
As for the studio design, Beaumont kept things local. "Everyone that was involved in the space is local and it's been such a fun process to work with incredibly skilled and interesting trades," she says.
"I kept the warehouse bones and feel and coupled it with beautiful finishes including internal salvaged steel windows—locally sourced from Tempe—beautiful joinery, polished concrete, rustic bronze tapware, antiques from Lunantiques and a custom concrete benchtop and trough." Beaumont also intends to use the space as an art gallery, with a rotation of local artists' work hanging on the walls.
Chill out in the reception lounge before class, or jump in Scout's serene showers and change rooms post sweat session to get ready for work. We're also very into the Scout merch (designed by artist Lucas Geor) and Beaumont's adorable pup, Ollie who'll greet you with a grin on arrival.
Image credit: Nikki To.
---