SELF By The Parlour Room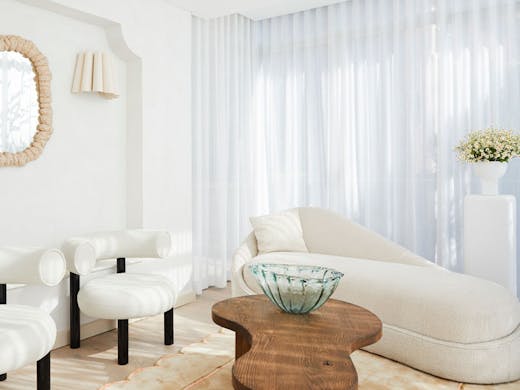 The Verdict
Brought to you by the same mastermind who gave the Eastern Suburbs The Parlour Room (a one-stop-shop dedicated to nails, brows, tans and waxing), SELF is a stunning new wellness space where you can continue to indulge yourself entirely.
Natalie Papadopolous launched The Parlour Room back in 2012 and this local legend has now taken over a nearby building, and thus, a sister salon has been born. SELF by The Parlour Room boasts facial and body treatments that are nothing less than the ultimate pampering session.
"This is a huge moment for us, extending The Parlour Room brand and giving our clients another destination for beauty and relaxation," she said in a statement. "The new salon is a luxury experience for people to indulge their skin, body and mind and invest in the ultimate self-care."
SELF offers a deeper level of beauty and wellness self-care with an extensive menu of luxury facials, decadent full-body treatments and restorative infrared sauna sessions. The new salon is Australia's exclusive stockist of iS CLINICAL—a brand specialising in botanically-based skincare. It's also the only salon in Australia practising iS CLINICAL's next level "Fire And Ice Facial". This rejuvenating treatment is a combination of a mild facial and clinical peel, guaranteed to give your skin those supple, glowing feels without the downtime of an actual chemical peel.
You'll also find other results-driven cult skincare lines like essential oil-rich, vegan-friendly O Cosmedics and age-defying Aussie botanical brand Sodashi.
Full-body treatments include the "Marine Body Wrap" for a full exfoliation and ocean-themed body mask; the "Soul To Sole" for a full body massage and the "Crystalus Massage", which combines physical massaging with the sensory energy of ancient Australian crystals. If you're keen on the benefits of an infrared sweat session, SELF is home to one of the most luxurious infrared saunas available for private bookings of up to three people (in line with COVID-19 social distancing measures).
The interiors at SELF will no doubt give you some serious Euro summer holiday vibes. Designed by the very talented Dani Dean of The Make Haus, SELF's beautiful neutral seashell palette gives the feel of a luxurious Italian apartment. There are long hallways with accents of marble, timber and onyx throughout and four large treatment rooms, each with their own calming design. In the waiting room, pictured above, we love the cream-coloured GLOBEWEST boucle day bed, matching Tom Dixon armchairs and the stunning custom mirrors created specially by The Make Haus.
Image credit: SELF By The Parlour Room
---