Simply Hummus Bar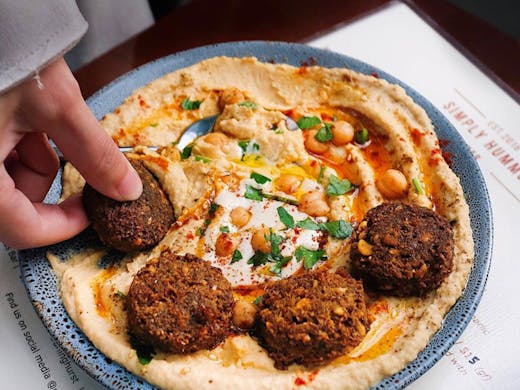 In case you missed it, Simply Hummus is Sydney's very first bar entirely dedicated to—you guessed it—hummus.
Hidden away in a little hole-in-the-wall spot in Darlinghurst, Simply Hummus is a cosy nook with a tiny menu that's full of flavour.
As you'd expect, hummus is the main affair here and you can order up plates of the stuff with fresh pita dusted in turmeric. Toppings include tabbouleh, tahini, mushrooms, spicy tomato salad, maple syrup-caramelised onion and falafel.
To celebrate their first birthday (which coincides with World Hummus Day on May 13, of course), Simply Hummus has dropped a brand new menu. On it, you'll find new hummus flavours to jazz up your usual dip fest—like pink hummus (made with beetroot and caraway seeds) and green hummus with zing (mint and chilli).
They've also added hummus toppings like plant-based mince, a set of open pita pockets, an epic cauliflower shawarma and a Jerusalem-style vegan grill mix with tofu, mushrooms, secret spice and sauteed onions.
Hungry? Go for one of the family packs—like the "build your own felafel" box, that's stacked with 15 felafel balls, hummus, pita bread, tahini and a large Israeli salad.
You can also treat yourself to deep-fried cauliflower tossed in smokey paprika or Shachlav—the official winter warmer drink of Jerusalem. It's a soul-soothing dream, made with almond milk and rose water, and served with cinnamon, caramelised pistachio and coconut.
During the COVID-19 restaurant restrictions, Simply Hummus is offering pick up and delivery via UberEats and Door Dash. Simply Hummus is also offering their own in-house delivery service (for $5) to most of the Eastern Suburbs. Check out the full menu here.
Image credit: Simply Hummus
---
You May Also Like
Bakeries & Delis
Rushcutter's Bay, NSW
A European-style deli, cafe and sandwich shop by the team behind Farmhouse and…
Restaurants
Darlinghurst, NSW
Joining Sydney's collection of Japanese venues offering an omakase, Moku serves…