The Soda Factory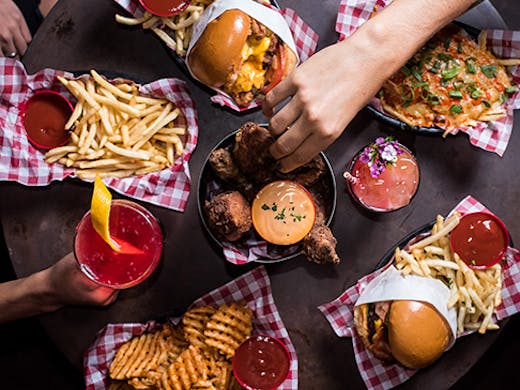 The verdict
If you haven't been to The Soda Factory in Surry Hills, do you even Sydney? An institution for anyone over the age of 18, this hidden speakeasy can be found behind a '50s Coca-Cola door on Wentworth Avenue.
With total American diner vibes, The Soda Factory is the kind of place you come for drinks or dinner (or both!) and stay allllllll night long. Dishing up all your fave favourite American eats, like hot dogs, burgers and their oh-so-famous chilli cheese fries, we strongly suggest you arrive here with a grumbling belly.
Do yourself a favour and pop by on a Tuesday for a taste of their notorious $1 dollar dogs (the classic NY Frank Sinatra, topped with onion rings, is our fave) but if you're there any other night of the week feeling cheeky, don't go home without stuffing yourself with bucket of Fat Bubbas fried chicken and a side of waffle fries worth every calorie—trust us.
The drinks menu is just as good (if not better) with boozy soda floats, all of the best cocktails, and beer and wine for those who like to keep things simple. FYI the dance floor goes OFF after dark thanks to their late night live music.
The best part? To celebrate their 5th birthday, The Soda Factory is throwing a HUGE Tarantino-themed party on Thursday 10 May with Furnace and The Fundamentals! We're talking roller girls, $12 cocktails all night long, boozy milkshakes and a top-secret special menu you neeeed to wrap your lips around. The fun starts at 7:30pm. See you there.
Image credit: Caitlin Hicks
---