Soul Agenda Yoga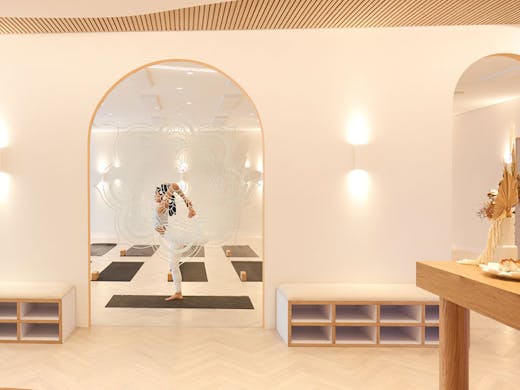 The Verdict
Some wellness studios truly change your life and we can confirm, Balmain's new yoga haven, Soul Agenda Yoga, looks set to do just that.
Apart from some stellar classes (we'll get to those in a moment), this space makes out like a soothing spa retreat you've stumbled across on a tropical island. It's been designed to help you escape the, let's be honest, big chaos and demands of living in a place like Sydney, and help you get a moment of peace to realign with yourself.
The studio has been designed by Louvre Interiors and oozes all things natural, soft and raw. There are herringbone timber floors, warm lighting, wall textures, sheer furnishings, and clean archways throughout the studio, which give this bright yoga retreat a somewhat Roman feel.
Soul Agenda Yoga is the brainchild of forever yoga gurus Chris and Jolene Galea who also own much-loved KX Pilates in Balmain. On the class front, you can expect to get a balance of movements that nourish your body while also working up a bit of a sweat. There are five different styles of yoga classes you can lap up here but there are a few standouts you'll want to make sure you tick off your list.
The "Power" classes feature a whole lot of dynamic movement with the yoga room heated to a balmy 30-degrees. The "Align" class is an open level class designed to finesse the foundations of your practice,heated to 28-degrees. Finally, you'll want to find some time during the week to attend Soul Agenda's Yin sessions too. This meditative, floor-based practice with long holds is all about slowing down and nourishing deeper tissue and joints.
The yoga studio also hosts a number of special classes, namely a regular Yin yoga "Sonic Tonic" with HeartSound, where you'll work through yin poses and sequences to the soundscape of live music by Vanessa Forbes, and then a "Soul Brothers" class, an open level practice developed specifically for men.
Image credit: Soul Agenda Yoga
---