St Kai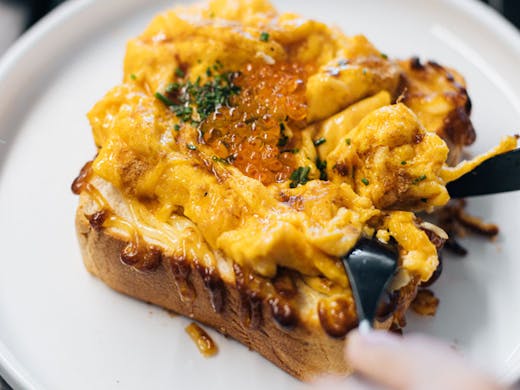 Sydney is a city buzzing with a myriad of cultures, so it's no surprise that even along the quiet backstreets of suburban Mortdale, there's a mini pocket of Japan to discover. We give you: St Kai.
A Japanese-inspired cafe and coffee house, the venue brings together our two biggest guilty pleasures—ramen and caffeine. Owners Lachy and Lexy Allouche are self-proclaimed misfits seeking to share their love for Japanese food culture. The sibling duo have successfully brought a slice of Sydney's inner-city cafe scene and a dose of Japanese dining culture to their own "backyard". If you're looking for the perfect haunt for a slurp-worthy bowl of noodles and your morning coffee fix in South Sydney, this is heaven.
Running the kitchen is none other than Japanese chef and artist, Yuki Bagel. The bagel queen has brought a new star power to St Kai (which opened back in 2019), adding even more colour to the fusion menu with new experimental flavours. Highlights include her Napolitan-style udon doused in kombu and loaded with bacon, onion, mushrooms, parmesan and umami dust; miso caramel French toast; cheeseburger donburi; and the curry tomago eggs infused with just the right amount of spice to liven up a dull day.
There are also a few more traditional-leaning dishes in the mix, including the tantanmen ramen with miso pork and salmon ochazuke. Moving into dessert territory, you'll find sweet relief in chocolate-stuffed "kukkis", mochi ice cream, banana bread with matcha cream, or the bagels hand-rolled by the bagel connoisseur herself.
Pair your meal with a pick from the cafe's illustrious java selection, which relies on local roastery Sample's beans and features new guest pours every Friday—just to give you that little something to look forward to at the end of the workweek.
Food aside, the first thing most patrons will notice upon entering this neighbourhood gem is the aesthetics. With its minimalistic design and colourful artworks adorning the walls, the atmosphere here echoes Japan's street style with an added touch of grungey skater vibes. Depending on your mood, you might choose to cosy up along one of the wall-lined benches during winter, or get some sun lounging in the outdoor seating during the summer. Whatever you decide, you'll soon figure out that this ain't your average neighbourhood cafe.
Image credit: Jasper Avenue
---
You May Also Like
Restaurants
Sydney, NSW
If you love flavour and sharing a spontaneous meal amongst fifteen of your favourite…