SUBTYPE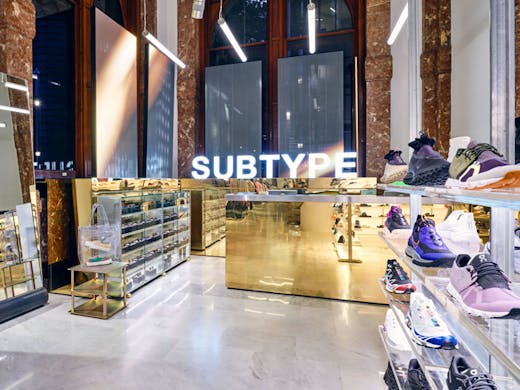 Created by the legends behind men's streetwear label ZANEROBE, SUBTYPE features a very covetable collection of sneakers, all hand-selected based on their design credentials, exclusivity, innovation, and creativity.
Basically, if you've bought from SUBTYPE, you know you've made a seriously good choice. The store is a little like a gallery, with each item displayed like the piece of art it truly is.
Built into a sandstone building front and centre on George Street, SUBTYPE's Sydney digs have been designed by Melbourne-based studio NOISE NOISE NOISE. And while there's a heritage look on the outside, inside you'll be greeted with slick gold reflective glass and a brilliant white sneaker wall.
Accents of plush buttery gold carpet and a sculpture made of chained timber logs warm up the space and give it, as NOISE NOISE NOISE designer Blair Cooper puts it, the sort of "unexpected tactility" and "confidence with colour" that SUBTYPE is known for.
As for what brands you'll encounter at SUBTYPE, drop in to shop all the best bits from ADER Error, IVY PARK, Drôle De Monsieur, YEEZY, Common Projects, Fear of God, Vans, and heaps more. Beyond sneakers, SUBTYPE also stock a cool edit of women's and men's streetwear, including one of our favourite labels right now, ARIES.
Image credit: FRMEZ
---