The Blue Door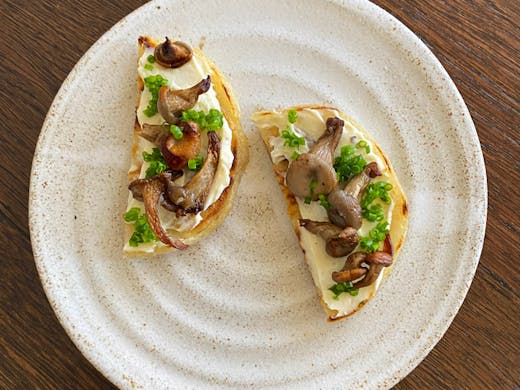 It's not often that Surry Hills comes second to the Gold Coast, but we're absolutely willing to make an exception in this case. Award-winning chef Dylan Cashman has officially created a Sydney outpost of his standout GC restaurant The Blue Door down South.
Cashman's resume lists a few pretty heavy-weight players, like Sean's Panorama, Cottage Point Inn, and Paper Daisy. He's also got some Michelin star experience under his belt and was also head chef at Fin's where he earned his first hat—so yes, we are more than a little excited to see his bright Yves Klein blue-coloured door on Waterloo Street.
As for what's in store, expect an intimate space dedicated to produce, ethical and sustainable practices, and real connection. An impressive 95% of The Blue Door's produce is sourced from NSW farmers, with a rotating weekly menu that ensures the restaurant's suppliers and farmers are never under pressure.
Bread is made in-house and The Blue Door is home to two Airgardens—Australia's first locally manufactured aeroponic 100% natural gardening system. The wine list champions wine from NSW too, and a "secret sips" menu will showcase hidden vintage champagnes, a small edit of international wines, and cocktail specials too.
Lunch is a la carte with two and three courses available, while dinner is a six-course tasting menu, with the option to pair wines too.
The Blue Door will open on Wednesday 20 October, 2021.
Image credit: The Blue Door
---
You May Also Like
Restaurants
Surry Hills, NSW
Bringing the fun, energy and excitement of Paris to Surry Hills' Crown Street,…
Restaurants
Surry Hills, NSW
Tucked into a sleek renovated terrace on Fitzroy Street, Fauna is a neighbourhood…