The Duke of Clarence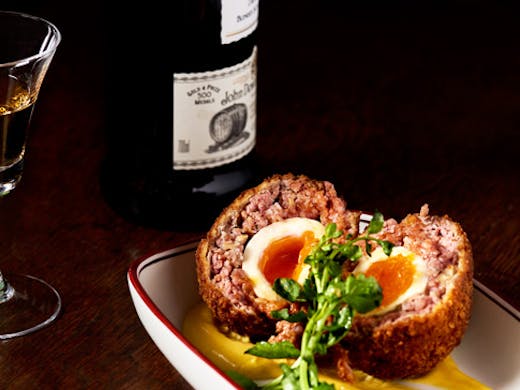 The Verdict
A classic, 19th century-inspired English pub has just opened in the CBD and this is where to head for a classic feed this weekend. We'll start with the good stuff—The Duke of Clarence has a 500-strong line-up of spirits but that's not where the fun ends. They've also got a pretty hefty selection of sherry, port, and sparkling wine as well as six vintage Pimm's products from the 1960s and 70s (you'll want to try every one).
Not surprisingly, the guys in the kitchen are keeping things classic too, with potted crab, soda bread and all of the butter, plus roast bone marrow with sourdough and a parsley salad. Our personal fave? Well, we just can't turn down a classic scotch egg with hot English mustard because it's a damn classic, okay. Oh and from early 2018 (probably some time in February), they'll also be serving up lunch during the week and Sunday roasts, which is really what Sundays are all about, right?
They've enlisted UK set design extraordinaire, Sara Mathers (aka, the genius behind Moulin Rouge), to source authentic English furniture because ICYMI, this place isn't doing anything by halves. Even the lighting, panelling and stained glass have been sourced from pubs, churches and warehouses across England. Like we said, this place is next level.
But back to the booze. The 12-metre long oak wood bar is where you will head for authentic cask ale being served from ornate English made taps, and just to really top off the experience, there's also a wood burning fireplace. And a library nook. We're done now.
Image credit: The Duke of Clarence
---