The Horse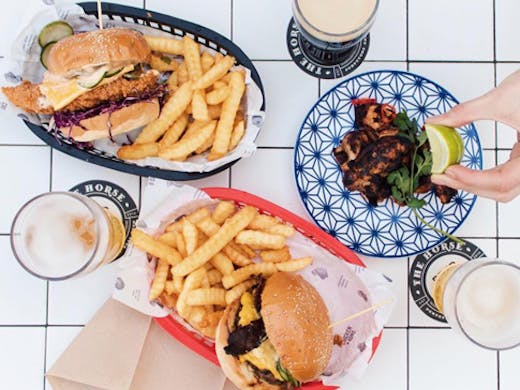 The Verdict
Surry Hills' local watering hole, The Horse, is the ideal place to unwind and knock back a couple of cheeky bevvies after work this Friday. They run a killer Tuesday night trivia, which will have you embracing your competitive streak and forgetting allllll about the work week.
The menu gets a big fat two thumbs ups from us because let's be honest, they had us at truffle. You can't really go wrong with American pub grub, and on that front, they've nailed it (order the truffled mac n cheesy chips—trust us). But if you're not like us and are struggling to keep your beach bod in check, then you can keep it clean with the cold sides and salads that'll have the rest of us wishing we had your will power.
If it's cocktails you're after, then read on. The ryespresso Martini is #amaze, served with Belgrove Rye Coffee Liqueur, coffee vodka and a, wait for it, TIM TAM! If you feel like you need to step away from the Tim Tams (we don't even know who you are anymore), then go for the not guiltea, with gin, matcha green, tea and fresh lemon. You're basically detoxing whilst drinking these guys.
And because the guys over at The Horse are a bunch of legends, they've decided to throw a weekly fried chicken rooftop party. We know. Dubbed Cavalier Sundays, these sessions will involve local DJs spinning tunes on the rooftop, cocktails, drink specials and all the best eats from Chicken and Sons. Sold? We thought so.
Image credit" Supplied
---
You May Also Like
Restaurants
Surry Hills, NSW
Bringing the fun, energy and excitement of Paris to Surry Hills' Crown Street,…
Restaurants
Surry Hills, NSW
Tucked into a sleek renovated terrace on Fitzroy Street, Fauna is a neighbourhood…