The Powder Keg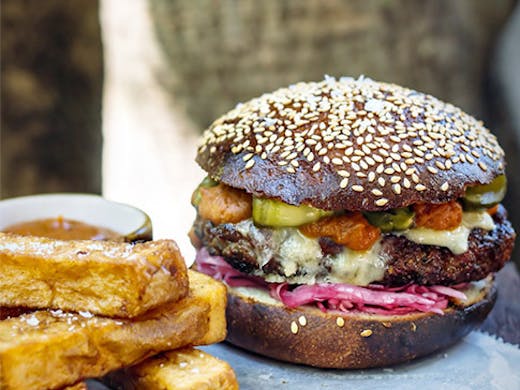 The verdict
If it's not spectacular, it's not worth serving at The Powder Keg. As one of Sydney's best restaurants with killer cocktails and a food offering to match, this Potts Point establishment has quickly cemented itself as a destination restaurant, but it turns out there are some pretty good reasons to turn it into a regular haunt too.

In a modern nod to the mischievous gin palaces of yesteryear, owner and cocktail extraordinaire Grant Collins doesn't stop experimenting and pushing the envelope. The dizzying array of gin and tonics are a great place to start. Boys, no need to shy away from the rose and cucumber, it's a pretty but damn delicious little thing. The Honeymead Sour is another excellent drink that shows off The Powder Keg's attention to detail—made with house made mead, and an apple cider sphere that doesn't dilute your drink as you get distracted by the food coming your way.
Duck schnitzel lollipops, quail scotch eggs—no, you're not dreaming, these are just the start to dinner. If you're not finished with gin and tonics yet, the oysters are a top pick too—no one presents them in quite the same way. Chef Elijah Holland is a huge foraging fan, and just about every dish looks and tastes like a bit of a fairy garden has landed on your plate. In fact, World Renowned Chef Rene Redzeppi paid him a visit when recently to pick his brains on his use of local and wild produce. Elijah also won the Ōra King Salmon award while representing Australia.
So with all that in mind, you'll be excused for staying into the small hours (The Powder Keg is one of the few places open until 2:30am on Fridays and Saturdays). However, you won't be forgiven if you leave without trying the Gunpowder Plot. Arriving in a smoking cloche, it turns as many heads as a fireworks display would, and really does taste like one too. Finish off with some of the treats on the late night Witching Hour menu, and you're set for some pretty epic photos to share!
Image credit: The Powder Keg, Federica Portentoso
---