The Royal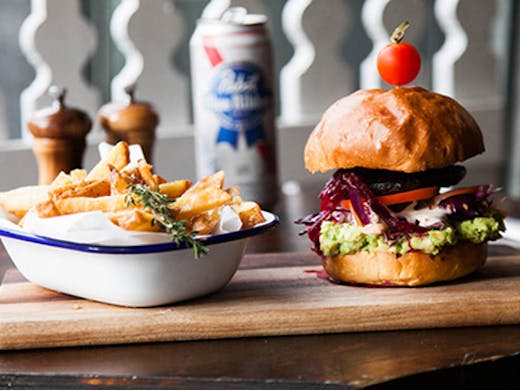 The verdict
Positioned on the street corner of a busy intersection in Darlinghurst, The Royal is a quaint, hole-in-the-wall café serving epic eats and awesome coffee, which is no surprise as they use a Little Marionette blend made specifically for them. That's right, these guys know their coffee but, so too do they know their food.

Each dish has been carefully crafted in order to suppress any craving, whether that be breakfast, lunch or dinner. There's a day menu, combining breakfast and lunch, offering a range of light bites as well as heavier dishes for the famished (and our suggestion is to definitely come here hungry!).

Artistic flair has gone into each dish, with things like the wok fried egg—an Asian styled fried egg with slow roasted pork, served with slaw—or the breakfast salad of chorizo, chevre, tomatoes and poached eggs, not quite your average brekkie meals. But, if you're after something a little less gourmet, think grilled toasties, bacon and egg rolls and even baked beans on toast.
Come evening, expect to get well acquainted with their share menu as you won't be able to resist the multitude of mouthwatering offerings. The blooming onion is one of our faves—it's like a giant onion ring, but much prettier (and tastier with aioli) as well as the baked camembert with croutons and cranberry—if you're a fan of cheese like us, this one is a must. Of course, there are mains if you're after something more substantial, with things like burgers, pork rolls and a steak sandwiches on the menu too.

However, the splendor of this café in Darlinghurst doesn't stop at the food. The Royal has a European vibe with the dark wooden paneling, leather seats, small round tables and Parisian-style outdoor seating. The vibe here is relaxed, there's no pretention (thank goodness) and the service is second to none.
If you're just hurrying by in need of a caffeine hit, you can order coffee from the window on the fly but if time is on your side and you're looking for somewhere to perch yourself as you watch the world go by, The Royal is your place. There is live music on Friday nights which attracts a good crowd, so get in early, grab yourself a wine and a cheese platter and make this your new go-to.
Image credit: Federica Portentoso
---