The TDE. Apartment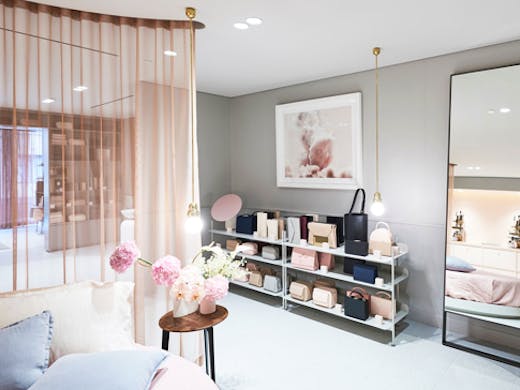 The Verdict
If you're not familiar with The Daily Edited (TDE.) then prepare to have your handbag-loving mind blown. TDE. is the place you head (either on the interwebs or in DJ's Sydney) when you're in desperate need of personalised leather goodies. ICYMI, every single one is crazy beautiful.
These guys don't do anything by halves, which is why they've just stepped up their already pretty damn luxe game with the launch of their brand new and first ever concept store in Sydney—The TDE. Apartment. And let us tell you, this beauty is so much more than just a store, and they're seriously not kidding when they call it an apartment. Okay, okay, we'll explain.
Basically you'll stroll through this store and quickly realise that it is quite literally designed with your Insta-feed in mind. With artworks, floral arrangements and decorative pieces on constant rotation, no two shots will ever be the same. Before we let that sink in, we'll also tell you that this is the best excuse you've ever had to snoop around your extra AF bestie's apartment.
From The Sitting Room which showcases the daily essentials (think iPhone cases and limited edition collections) to The Bedroom where the beautiful bags live, The Bathroom (cosmetic cases and luggage), and finally The Study with desk organisers, message pads and the like on full display. We want one of everything.
Don't even get us started the high ceilings, large (read: massive) oval bath, floor to ceiling windows and out of control flatlays. No really, don't. We could go on for days.
Image credit: The Daily Edited
---