Tiva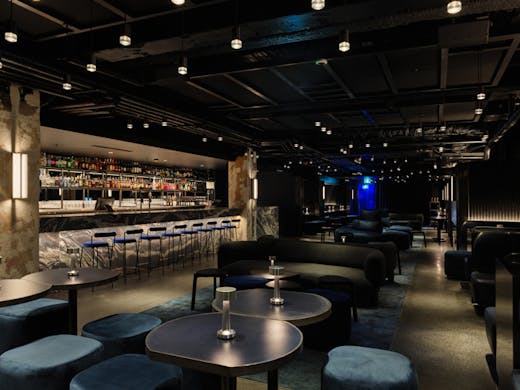 When you think basement music lounge, typically sticky floors and plastic cups come to mind. While there's definitely a space for this sort of live music experience, Tiva is offering something a bit different.
Like, a tequila martini, shaken and poured tableside and crumbed Moreton Bay bug sandwiches. Hidden beneath CBD multi-storey venue The Charles, Tiva is, in short, a luxury live music spot, unlike anything else in Sydney right now.
Behind the music is Dan Lywood of music consultancy Playlister FM (Chateau Marmont, Chiltern Firehouse).
"Expect the cream of the country's players and international guests presenting live music four nights a week, alongside a diverse and exciting roster of established and up-and-coming DJ talent," he says.
Alongside a menu of fancy snacks, top-shelf spirits by the glass and by the bottle, Champagne, and table service, you'll be able to cosy up in luxe black leather booths and bless your ears with live music covering genres like jazz, soul, RnB, folk, and New Orleans dance from Wednesday to Saturday and DJs every night of the week. And all this will be coming to you via a top-tier Martin audio sound system.
Image credit: Steven Woodburn
---