Vini Divini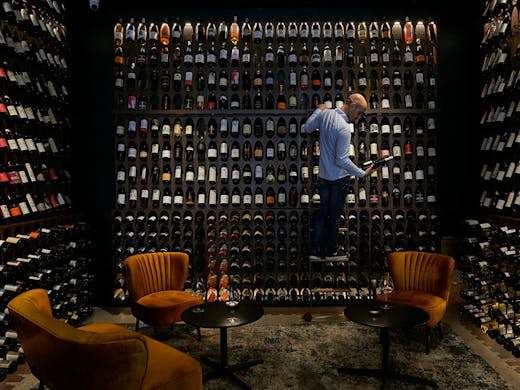 Headed up by Rockpool Dining Group's former head sommelier, Raphael Mulligan, alongside Belgium-born owner Philippe Gilbert, Vini Divini is the European summer you've been missing, one wine glass at a time.
The bar is inspired by the inimitable essence of la dolce vita and "bringing people together to laugh, enjoy wine, break bread, and share stories and ideas," explains Gilbert.
To create his geographically diverse wine-list, Mulligan has collaborated with small, independent winemakers and distributors to pen something that's pretty unique for Sydney. With a broad by-the-glass selection, Vini Divini is a spot to sip your way around a few different countries—travelling from well-known regions of France, Italy, and Spain, and then over to Greece, Armenia, Georgia, and Turkey too.
When we visit, Mulligan pours a Greek retsina to start. This traditional Aleppo pine resin-infused wine has been made for thousands of years and, up until very recently, has been treated as kinda low-brow. Now though, a new breed of Greek winemakers are shaking things up and making boutique retsina, like the Attica region style we try at Vini Divini. It's balanced, fresh, and a totally perfect aperitivo.
We also try a cherry red Turkish Karasakiz from Sulva—an award-winning family-owned vineyard in Eceabat near the Gallipoli Peninsula. The grape variety is unique to Gallipoli and this bottle is flavour-packed, full textured, and basically, really delicious.
Keen to try a few Mediterranean wines? Order one of Vini Divini's "First Class Flights", a wine flight featuring three glasses from either the Greek Islands or the Greek mainland.
Complementing this epic Mediterranean wine journey is a menu of mezzé-style plates created by chef Seda Güç, a protege of Efendy and Anason's Somer Sivrioglu. Güç's signature babaganoush is made fresh each morning with a mix of fleshy smoked eggplant and pistachios.
The vibrant heirloom tomato salad with parmesan, basil, and lumps of buffalo mozzarella is a welcome break from Sydney's current burrata obsession, and the slow-cooked lamb shoulder with fregola salad is perfectly hearty for hungrier drinkers. There's also a neat selection of cheese and salumi too.
Lining the walls of Vini Divini are black and white prints of Italian icons who lived by la dolce vita—like Sophia Loren and Marcello Mastroianni. The towering wine wall was sourced from Italy, and the island-style bar is topped with a beautiful slab of Iranian rainbow pink onyx. Inside, blush pink velvet armchairs are dotted throughout the space, while al fresco seating overlooking Wynyard Park is perfect for lunchtime wines and warm evenings.
Image credit: Vini Divini
---