Wieczorkowski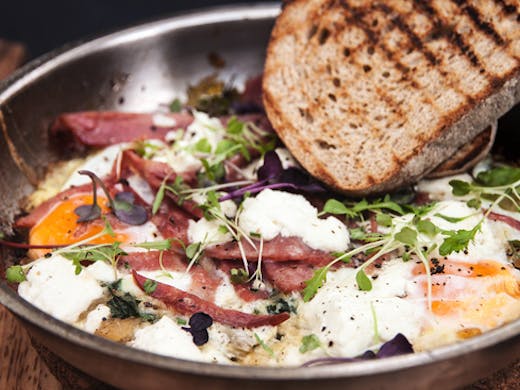 The verdict
Thai, Japanese, Mexican… Polish? It's about time Sydney's eastern suburbs dining scene had a cultural shake-up. Owner Adam, and his mother and Kasia Wieczorkowski opened this café and deli in Woollahra in early 2014, serving authentic Polish fare, offering a unique experience as much as tasty food.
Here you'll find cakes, baked goods and pastries, the recipes handed down through generations, as well as delicious coffee and a leafy courtyard to enjoy it in.
They're open for breakfast and lunch, and if you head in for the former, the vanilla cous cous porridge with rhubarb and strawberry compote is like a warm hug in a bowl. For the savoury types, Wieczorkowski's signature omelette is the ultimate in morning luxury, with braised leeks, wild mushroom, truffle butter and Polish rye. Drool.
When the chocolate cravings take over, be sure to get your hands on their signature hot chocolate, made with with 36% A.Blikle Milk Chocolate pieces. It's the perfect way to get your choccie fix while heating yourself up from the inside. If you're a little more hungry than that, go for the gypsy potato pancakes with smoked paprika and beef ragu, it's the ideal cosy lunch, and get your dining companion to jump on board with the spiced confit duck with speck lardon and caramelised apple.
And last but not least, it would be simply rude not to partke in their irresistible Pączki (Polish doughnuts), filled with oozy chocolate and covered in a deliciously sticky glaze. Dip them in your hot chocolate for the ultimate Polish indulgence.
Image credit: Alex Squadrito
---