WingHAÜS by Bavarian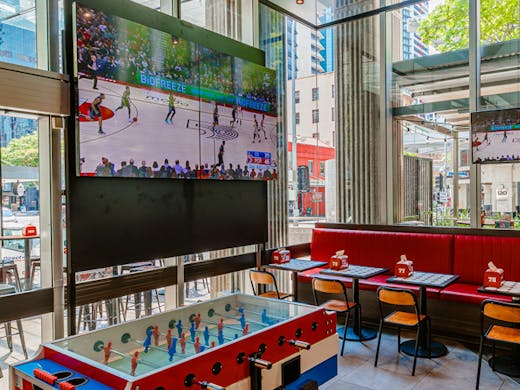 WingHAÜS will reopen on Wednesday 3 June, 2020. Happy hour runs from 5pm - 7pm and includes$5 wines, $6 pints , $11 steins and $7.50 cocktails (margaritas, Negronis, Aperol spritz and espresso martinis.)
To eat, you're in for 50-cent classic wings, and $5 side dishes, such as giant pretzels, chips, onion rings, potato gems, and deep-fried pickles. If you're hungry, go all out and order the 100-piece wing serves with nine sauces and extra dips.
***
From the same Sydney-based hospitality crew that gave us The Bavarian comes WingHAÜS—an ode to the American cult of all things wings, beer and big-screen TVs.
At WingHAÜS, you'll have access to plates of sauce-heavy American-style wings—think classic buffalo wings, fried wings (dusted in either chipotle or habanero powder) and boneless chicken tenders. They're dished out in servings of 10, 15, 20, 50 and—if you're feeling just a bit hungry—a stacked plate of 100 wings.
Eight sauces are on offer for you to choose, ranging from mild to melting hot: Texas BBQ, traditional hot sauce, Korean, habanero, chipotle, afterburner and "face-melting". Need more flavour? Wings also come with your choice of dips like blue cheese, ranch dressing and honey and mustard.
If wings ain't your thing, there are burgers (try the limited-edition JD's Chookhaüs burger with secret-spiced chicken breast, Sticky Jack Daniel's sauce, habanero hot sauce, coleslaw, cheese and pickles), and hefty snacks like hot chips, buffalo ranch chips, Texas ranch chips, onion rings, potato gems, coleslaw and deep-fried pickles.
For dessert, you're in for classic New York-style cheesecake or deep-fried Mars, Snickers or Picnic bars.
To drink, there's beer—about 40 on tap such as American heroes Budweiser and Goose Island, local winners 4 Pines and Pirate Life, and German brews like Paulaner, Franziskaner, Spaten and Hofbräu. Taps also pour margaritas, old fashioned's, Aperol spritz, Negronis and espresso martinis.
And as for those big screens? State of the art technology wirelessly streams up to 20 games simultaneously.
Image credit: WingHAÜS by Bavarian
---