Wings And Tins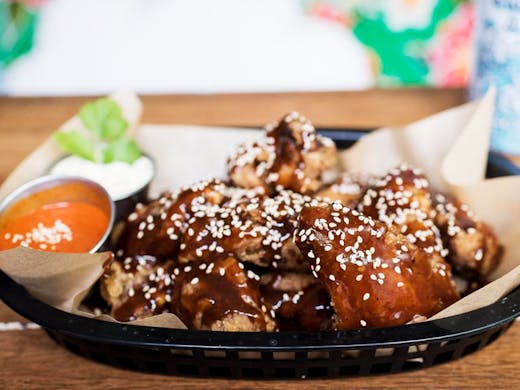 The Verdict
Your favourite dive bar has opened a new location in Dee Why and it's just as sexy as its Darlinghurst locale. If you're looking for a chill place with the best tunes to lounge around with your mates and swig back a tinnie while getting your fingers dirty with some wings, look no further than Wings And Tins.
The crew here stocks over 50 types of tinnies and crazy delicious fries, like their saucy cheesy chips with melted cheese smothered in aioli and buffalo sauce. But their wing selection is by and far the standout (no shock there).
This gem has triple sauce bbq wings sprinkled with parmesan, dry rubs like Tennessee smokehouse and spicy Portuguese, and all are served with house-made blue cheese dipping sauce and slaw. They also have a veggie wing option, made from cauliflower and broccoli tempura smothered in buffalo sauce and aioli so if you're that mate, you won't miss out either.
But the most iconic feed here is the t-bone doom juice- wings made from the Guinness Book of Records "hottest chilli in the world", the Carolina Reaper.
Should you conquer this bad boy, you'll be immortalised on the Wings and Tins Wall of Pain.
Image credit: Caitlin Hicks
---