WyNo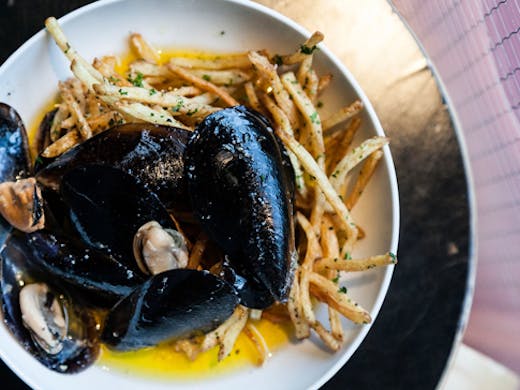 The verdict
The team behind one of Sydney's most institutional restaurants, Porteno, have gone and done it again. They've just thrown the doors open to a brand new wine bar and wine shop in Surry Hills right behind their flagship restaurant and true to form, it's an absolute winner.
This is the ideal spot to head for a cheeky pre-Porteno wine or to settle in with your friends for a bottle and an entire table of share plates. On the lighter side of the menu there's simple food done well, like the sardines topped with with fries, or a plate of soft fried eggs slathered in foie and Oloroso gravy (and golden toast for dipping). If you're looking for something more substantial, then you'll be all over the octopus ragu or spaghetti served over an LP's seafood sausage.
Regardless of your appetite—or whether you decide to sample one of everything from the menu—the wine list also won't disappoint. There are a few similarities to Porteno, with a few extra premium international tipples thrown in for good measure.
Image credit: Federica Portentoso
---
You May Also Like
Restaurants
Sydney, NSW
If you love flavour and sharing a spontaneous meal amongst fifteen of your favourite…