Yulli's Brews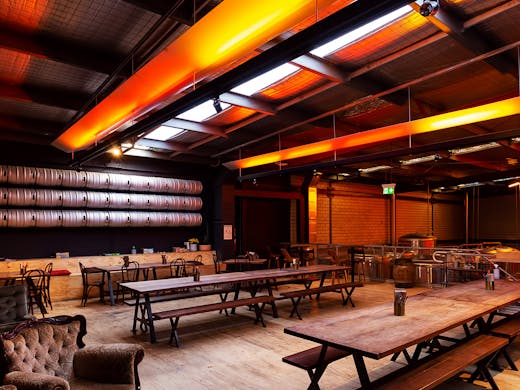 The Verdict
The name Yulli's won't sound too foreign to anyone living their best foodie life in Sydney. As the brainchild of the crew that also brought you the Surry Hills vegan restaurant known as Yulli's, Yulli's Brews is a craft brewery like no other.
After dropping their first batch of beer in 2014, James Harvey and Karl Cooney were pretty damn eager to go large and brew beer that could stand alone in your everyday pub and also ramp up any meal in a fine dining feast. And so, Yulli's Brews came into being.
This Alexandria brewery holds a four-vessel 2000L brewhouse designed for quick brew days to fill the seven 4000L fermentation tanks (just casually). As for the venue itself, it's a bit of everything with restaurant, pub, bar, tasting room and music vibes all rolled into one. The brewery also plays host to comedy nights and vegan markets.
As for the food, the philosophy is all things simplicity and, you guessed it, it is entirely plant-based like its Surry Hills counterpart. The Yulli's crew hails from a bunch of different cultural backgrounds, so the menu spans Korean-inspired dishes, Greek flavours, Vietnamese eats and some good old-fashioned Aussie elements too. With this, you can be sure that these feeds are created ethically with sustainable food choices at the helm (there's a big focus on local growers and independent businesses wherever possible).
Make sure you hit the spicy bean nachos with guacamole, ranch sauce, fresh herbs and togarashi or, if you're super hungry, the grilled eggplant gyros are one thousand per cent made for you. These morsels are loaded with garlic mash, red cabbage, carrot slaw and fresh herbs. And if you've got a bit of extra room, go hard on the deep-fried Chinese bao packed with coconut ice-cream, chocolate crumble and butterscotch sauce.
To drink, naturally, you're in for a solid roundup of delicious beer. There are 11 beers and one cider on tap to choose from, as well as ice-cold tinnies if that's more your jam. Our favourite brews have to be the "Amanda" mandarin pale ale and "Slick Rick's" rampaging red ale.
And if beer's not your vibe, you'll find Archie Rose gin on pour as well as a wine list based on NSW's very best drops.
To really top things off, Yulli's is absolutely dog-friendly too.

Image credit: Yulli's
---