Zafferano Trattoria Mediterranea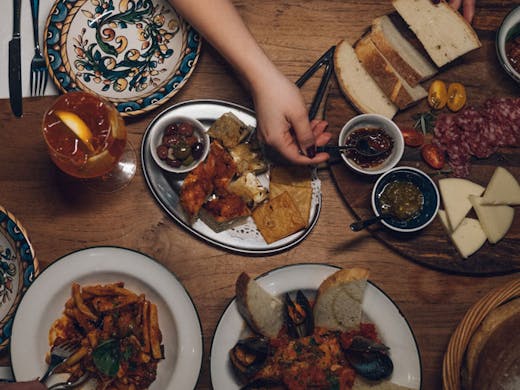 The Italo wave continues in Sydney's leafy, well-heeled suburb of Paddington with the arrival of a casual Sicilian diner on buzzy South Dowling Street. While there are many cafes and go-to lunch spots on South Dowling—namely South Dowling Sandwiches and Boots Darling—there aren't many restaurants. Until now, that is.
Originally opening as a cafe back in 2021, Zafferano has now transformed into a full-blown trattoria, serving simple, well-loved Italian dishes, that's perfect for date nights and long, leisurely lunches.
The neighbourhood gem is owned by Sicily-born chef Simone Crivello and his partner Isobel Galloway and was born out of the duo's love for food, wine and convivial dinner tables. Named after Palermo's Capo Zafferano, the restaurant is Crivello's homage to his father, Francesco, and his seafood restaurant in Sicily—Trattoria Fancu U'Piscaturi—that's been operating since the 70s.
On the menu, you'll find simple Sicilian dishes using fresh, local produce. Signatures include sfincione (fluffy, rectangular Sicilian pizza), a mixed seafood dish sautéed in tomato, chilli, garlic and parsley, and a marinara risotto with clams, muscles, cuttlefish, prawns and crab—the same risotto that's been on the menu at his father's restaurant. There's also cannoli for dessert and, of course, you can expect a wine list featuring plenty of Sicilian drops.
In terms of the space, Zafferano has had a lick of paint since transitioning from coffee to cocktails. The interiors are by Galloway's father and former fashion designer, Stephen Galloway. Throughout the dining room, you'll spy Testa di Moro (or Moors Head), which are traditional Sicilian clay heads; framed black-and-white photos of Palermo and Crivello's family restaurant adorning the walls; and, outside in the al fresco dining area, forest green walls and marble finishes that'll further transport you to the Italian isle.
Image credit: Zafferano Trattoria Mediterranea
---