Zeus Street Greek Dulwich Hill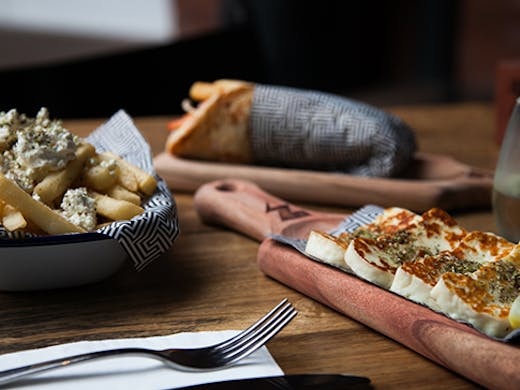 The Verdict
The guys behind Zeus Street Greek must be looking down on us from the top of Mount Olympus and are feeling generous because they've added Dulwich Hill to their empire.
They're serving up the same epic pitas you've had at any of their other Zeus venues or if you need a refresher just picture this: pork with tomato, tzatziki, onion, paprika and chips wrapped in a cloud-soft pita. They call it the 'Tzimmy' Pork Classic and boy does it pack a flavour punch. And with home delivery available too, you can eat and lounge like Dionysus.
And guys, they've just dropped their brand spankin' new winter menu which means you'll now be able to feast on things like halloumi mac 'n' cheese balls. We'll just let that sink in for a second. You good? Great. These bad boys are exactly what you're picturing, panko-crumbed halloumi mac and cheese balls with a spicy harissa dip on the side. Yep, we'll take seven. Serves that is.
Image credit: Federica Portentoso
---