Ah, France, the nation of l'amour, exceptional fromage and striped bretons; it's the world's most travelled to destination for good reason.
We've teamed up with Emirates—flying from Australia to Paris, Nice and Lyon via one convenient stop in Dubai—to bring you 50 reasons to make your next holiday one to the undisputed home of gastronomy.
From strolling through Monet's Garden in Provence, to skiing in the Alps, to drinking full bodied reds in Bordeaux, there are endless possibilities for every taste even before you add in shopping at Chanel in Paris or visiting the Notre Dame, the Eiffel Tower and the Louvre to the mix.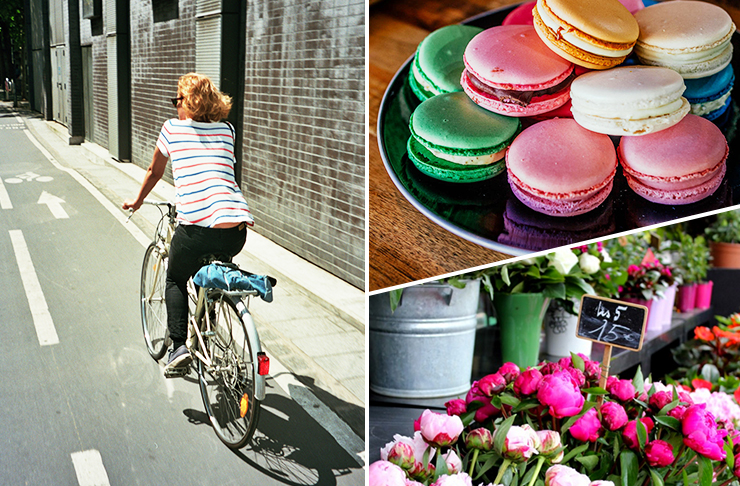 And because French women (people?) don't get fat, neither will you as you make your way through our guide to the 50 best things to see, do and taste in the gastronomic wonderland that is France.
PARIS
1. Visit ALL the galleries: start with Le Louvre, Les Arts Decoratifs, Louis Vuitton, the Orangerie, Centre Pompidou and Palais de Tokyo for mind-blowing art and sculpture.
2. Get lost in a world of kitsch stationery, international magazines and high end fashion at the iconic store colette.
3. Bite into a chocolate chestnut tart and follow it up with a caffe latte at the charming Rose Bakery.
4. Spot graffiti artist Space Invader's famous graphics all over town.
5. Spend an afternoon wine tasting in Le Bon Marche's Food Hall.
6. Find some haute couture and book in a lunch with the fashion crowd at Hotel Costes.
7. Relax in stunning gardens galore including the Jardin du Luxembourg and the Tuileries.
8. Pack the rosé, champagne, camembert and baguette and have a picnic by Canal Saint Martin, the hippest hang-spot in town.
9. Take a boat ride on the Seine or cycle alongside it waving at tourists on the boat.
10. Bite into the pain au chocolat at Poilane, a family-owned Paris bakery institution since 1932.
11. Share the most divine tapas at Le Mary Celeste.
12. Let them eat cake! Channel Marie Antoinette with a day trip to the opulent palace of Versaille, less than an hour and a half from Paris.
13. Contemplate life at Places de Vosges.
14. Tackle the best crepes in town at Breizh in the Marais District and don't be surprised when they are actually savoury!
15. Follow them up immediately with Nutella crepes at one of the many street vendors around the city.
16. Have a drink (but not too many) at Le Progres—the bar where John Galliano was infamously fired.
17. Embrace the bistrot salads at Le Balzac.
18. Devour the famously rich hot chocolate at Angelina's and then maybe walk to the top of the Eiffel Tower to work off the calories.
19. Act like a true intellectual and hit up Karl Lagerfeld's Book Store, home to art, design and architecture tomes of note.
20. Journey to the mecca of all flea markets, Porte de Clignancourt Les Puces, for all the vintage furniture you'll be sad about not bringing home…
21. Take French Lessons at the Sorbonne. Or if you don't have the funds, hit up duolingo instead and practice chatting up cute Frenchies on the Metro.
22. Buy the perfect delicate ballet flats at Repetto in the Marais, but make sure you watch out for dog merde on the street in a city that worships pooches.
BORDEAUX
23. Home to some of the best wines in the world, start with a tour of all the best Bordeaux reds at the most famous wine chateaus: Latour, Margaux and Mouton-Rothschild.
24. Then soak up your hangover with the 'Bordelais' breakfast of champions: fresh oysters and prawns as big as your hand with crusty bread and butter.
25. The whole city centre of Bordeaux is a World Heritage site so dust off the sneakers and walk around taking in the beautiful scenery.
26. Start off with the ancient architecture at the St Andre Cathedral and the beautiful Pont de Pierre Bridge.
27. And make sure you stop at the Monument Au Girondins the most epic historic fountain you will ever see!
28. If you want some inspo for your life goals, stop by the Fort Knox of wine – the Millesima storage rooms in old Bordeaux – where there is over $200 million worth of wine and 2.5 million bottles!
29. If you need a momentary break from exceptional wine, the glitzy seaside town of Biarritz is but a train trip away and if you time your trip right, you could also catch the Roxy Pro surf competition.
SOUTH OF FRANCE
30. Take a bike ride through the fields and fields of lavender in the aptly named village of Grasse.
31. Then buy a bottle of Chanel No.5 who use the essence in their perfume.
32. And while you're exploring, set your GPS for Saint-Antonin-Noble-Va: the cutest little village that was the location for the movie The 100 Foot Journey.
33. And the quaint village of Var! It's known as chestnut country and all of the markets have warm chestnuts ready for you to eat!
34. If you fancy yourself as a Masterchef, check out the knife heaven, you've never seen so many artisan blades in one spot.
35. Did you know that artisan soap is aged to a vintage? Us neither. Check out the amazing artisan soap at many of the Provence markets each weekend.
36. Monet loved his garden even more than art. Walk through his garden and marvel at all of the colours.
37. Look at flocks of pink flamingos in the Camargue wetlands.
38. Check out the Roman ruins in the walled city of Avignon.
39. See where fields of the world's most expensive spice, Saffron, is grown and meticulously picked at L'Aub Safran.
40. Pack a picnic, find a beautiful spot in Provence and make a Salad Provencal, a delicious potato salad that originates from the region.
THE FRENCH RIVERIA
41. Don your most glitzy evening wear, pretend you're a film star and waltz along the yacht club in Cannes you never know when you'll bump into Jay Z and Bey who moor their boat there.
42. Keep the flame of old school glamour alive and check into Le Negresco hotel.
43. The French Riveria has hundreds of cute beaches to uncover. Catch the train from Nice, to Antibes to Jean Le Plage and swim at each and every one.
44. Get a lesson in incredible architecture and visit Eileen Gray's house-1027.
45. Pop over to the world's richest principality, Monaco, for the day and take a punt at the Monte Carlo casino.
46. The holy grail for cheese lovers is Bruno's Goat Farm which has the most divine chevre in the world.
47. And make sure you stop by ice cream store Fenocchio which has the most crazy flavours. Do amerena cherry or chard pie or tomato basil take your fancy?
48. Drive along the winding road from Nice to Menton on the back of a Vespa with your lover and pretend you're in an old school romantic movie.
49. Wander through Nice's Old Town: a maze of charming eateries, flowers, galleries and shops.
50. Blow your entire holiday budget in one night and book into one of the most opulent hotels in the world, Hotel du Cap Eden Roc, and rub shoulders with celebrities, movie stars and royalty while taking in the spectacular view.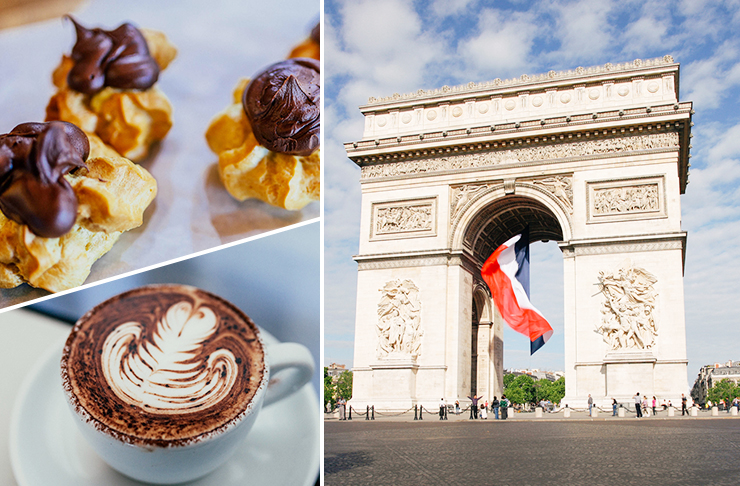 ---
Here at The Urban List, we're forever dreaming about, and planning, our next holiday destination, which is why we're excited to join forces with Emirates to inspire you for your next amazing trip. Emirates' expansive global network, with 149 destinations in 80 countries to choose from, the world really is your oyster. Stay tuned for the ultimate guides to the world's best destinations - handpicked, must-do experiences that will take your next holiday to another level. Or to book a trip give Emirates a call on 1300 303 777 visit your local travel agent or go to www.emirates.com/au.
Image credit: Ariana Gillrie, Daniel Maddock