After the tumultuous year that was 2020, it's no wonder that we're doing holidays differently. We're placing newfound importance on getting back to nature and soaking up all of Mother Nature's goodness—and what better way than with an active adventure to Tasmania?
From hiking the Cradle Mountain Overland Track to cycling Tasmania's east coast, this is your chance to slow down and see this island state from a new perspective. You'll feel the crunch of wilderness beneath your feet, breathe in the crisp sea air and hike to misty mountaintops in what is a true bucket list-worthy experience.
Sure, you could jump in a car and drive around Tassie but with these curated Intrepid Travel trips, you'll get to see—really see—the surreal beauty of Tasmania that's made it so revered. A local will take you off the beaten path and show hidden secrets you might not otherwise stumble upon. Plus, you'll meet like-minded people to swap stories with over a beer each night. So, if your mates are chasing the sun up north but you're hanging out for some fresh, Tassie air — then an Intrepid Travel tour is definitely for you.
And as if that's not enough, the legends at Intrepid Travel are making dreams come true by giving away a holiday for two to Tasmania, enter here.
Start packing your bags, here's where you need to tick off on your next trip to Tasmania.
Bask In The Beauty Of Bruny Island
Sitting just off the south coast of Tasmania, Bruny Island boasts some of Tasmania's most preserved natural environments and elusive wildlife. With so much natural beauty, the best way to see it all is by foot and the 12-kilometre Cape Queen Elizabeth day-walk is an absolute must. You'll wind past ancient rock formations at Mars Bluff all the way to The Neck—where the north and south island meet and are joined by a narrow strip to create a breathtaking view. Walk to the top of the lookout steps where you'll see the optical illusion that makes the sea-level appear higher on one side than the other. Just be sure to keep an eye out for fairy penguins scurrying over rocks below.
And although most travellers come to witness the surreal natural beauty of this small southern isle, there are plenty of watering holes and eateries to sate your appetite. For fresh oysters make tracks to Get Shucked, for a well-deserved post-hike tipple stop in at House of Whisky and refuel after a big day of exploring at Bruny Island Cheese Co.
TOP TOUR PICK
What: Walk Bruny Island and the Tasmania South Coast
Days: 6
Best for: travellers who want to sample fine local produce, spot local wildlife and immerse in nature
For travel information see here.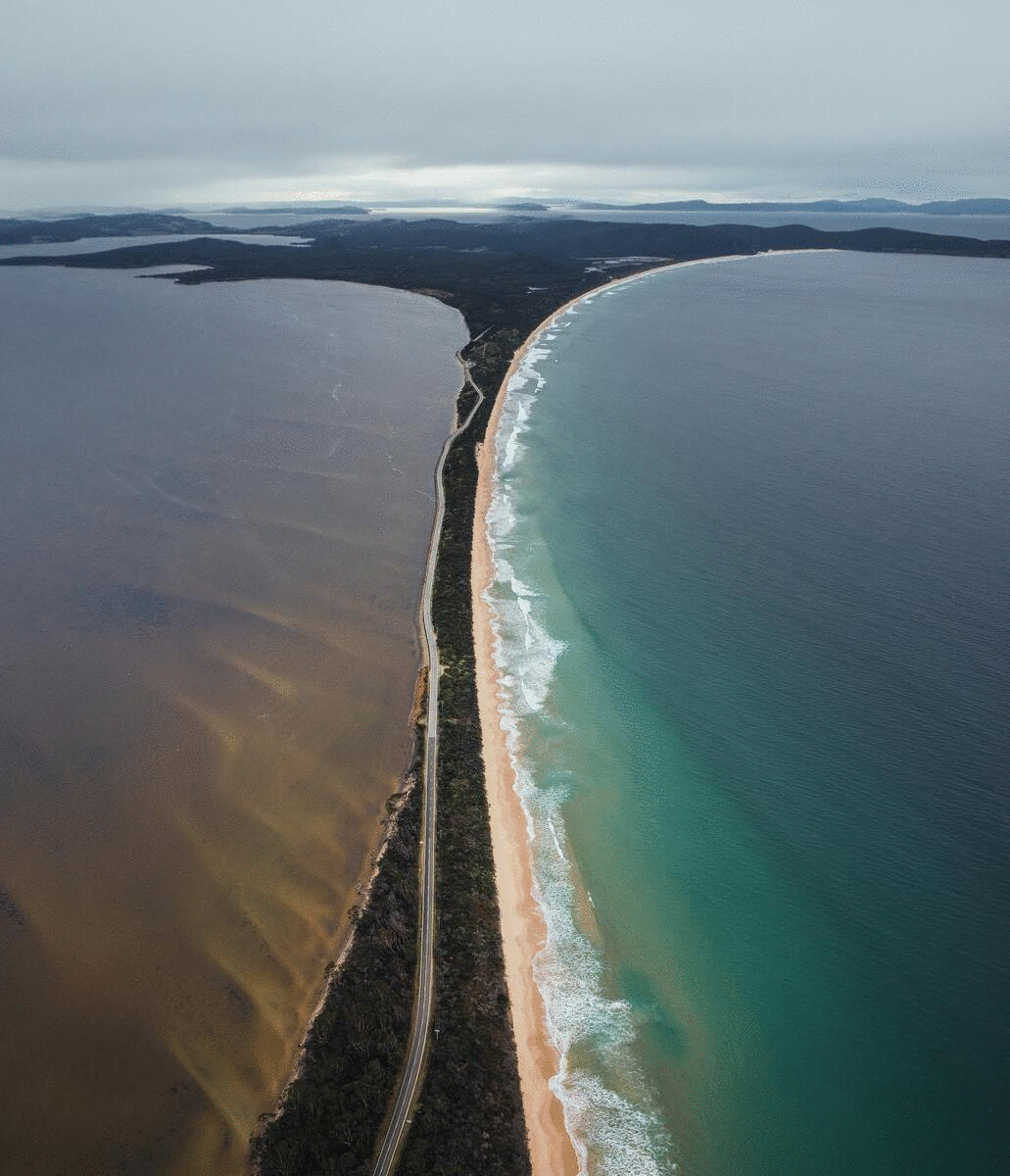 Conquer The Overland Track
With international travel on pause right, a trekking trip to Machi Picchu might have to wait, but luckily we have one of the most exhilarating treks right here in our own backyard that should already be at the top of your bucket list. The Overland Track is a 65-kilometre multi-day hike that winds across grassy plains, through mountains and temperature rainforests and alongside blue lakes with vistas of waterfalls and towering peaks in the distance. With beauty such as this, The Overland Track is one of the most in-demand experiences so permits are close to booked out, but on an Intrepid Travel tour, it means your permit is sorted so you're guaranteed a spot.
Be warned — this trek is not for the faint of heart. On this active adventure, you'll be carrying about 15kg worth of gear and food on your back but trust us when we say, it's more than worth it. And with your new buddies cheering you on, you'll be as motivated as ever to press on and summit mountain peaks. Each night you'll camp on the edges of historic huts and fall asleep beneath a canopy of stars before waking in the morning to dramatic landscapes that look so magical, you'll think you're still dreaming. For a little slice of luxury in the wilderness, your tour guide will even do all the cooking — winning! So, if you're chasing a once-in-a-lifetime challenge, then trekking The Overland Track is for you.
TOP TOUR PICK
What: Trek the Cradle Mountain Overland Track
Days: 6
Best for: active travellers seeking a rewarding challenge
For travel information see here.
Discover The larapuna / Bay of Fires
Best known for its orange-hued granite outcrops and white-sandy beaches, snapping the perfect Insta shot is a rite of passage at larapuna / Bay of Fires but with a walking tour, you'll really have time to soak in the breathtaking beauty for longer than a fleeting IG post. It's walking adventures like these that ignite a thrilling sense of remoteness, as crystal clear waters and sweeping beaches await, without another soul in sight. Aside from its surreal beauty, this stunning corner of Tasmania also delivers the ultimate mix of wellness, adventure, and relaxation. Walking adventures commence in Launceston and take five days to complete where your expert guide will take you from the sea to fern-filled rainforests and even to hidden waterfalls. It's your once-in-a-lifetime opportunity to see this world-famous stretch of pristine coastline up close and get right to the heart of the landscape on your own two feet. And with slow, mindful travel on the rise, it's the ideal low-impact, hyper-local getaway you've been longing for.
TOP TOUR PICKS
What: Walk The Bay of Fires
Days: 5
Best for: travellers seeking the ultimate balance of wellness, relaxation and adventure
For travel information see here.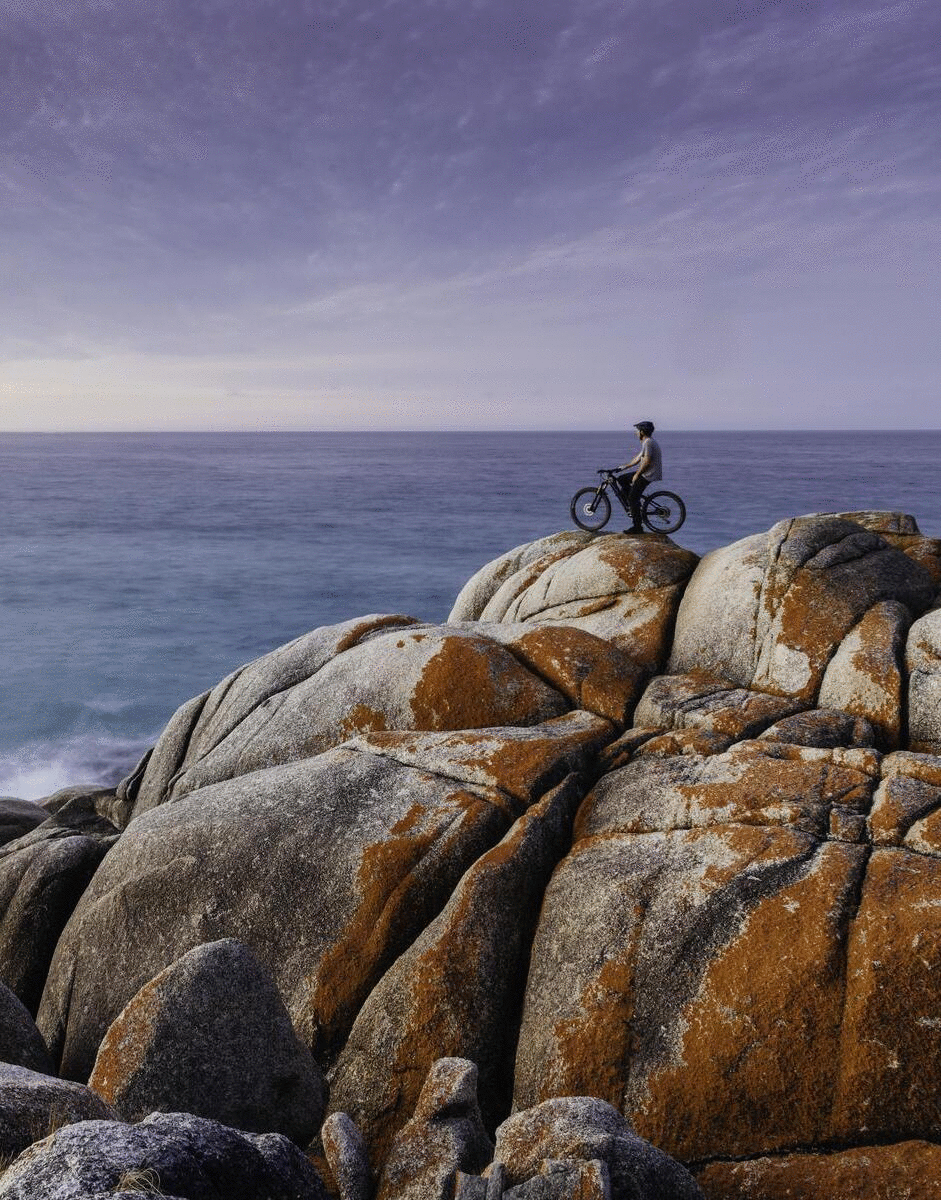 Cycle Tasmania's East Coast
Let the crisp, fresh air fill your lungs as you peddle along Tasmania's epic east coast. This adventure kicks off in Launceston with riders winding along the rugged coastline before stepping off your bike in Hobart. Along the way, expect to come across quaint coastal towns like St Helens and Bicheno, secluded, white sandy beaches at Wineglass Bay, and lush wilderness primed for the 'gram at Freycinet National Park. The best part about a bike-powered adventure in Tasmania? You'll cover lots of ground and tick off many Tassie must-dos, but it also allows for a slower approach to travel. You'll have the opportunity to stop in at vineyards, oyster farms, restaurants and lavender farms to taste the local produce and take the time to meet the makers. Pure bliss.
TOP TOUR PICKS
What: Cycle Tasmania's East Coast
Days: 9
Best for: active travellers who want to see a large portion of the state
For travel information see here.
With otherworldly beauty and unrivalled active adventures at your fingertips, there's no better place to embark on an active holiday than Tasmania with Intrepid Travel. Thanks to their guided tours, you'll meet life-long mates, uncover local secrets, and see sights you might never stumble upon otherwise. If you're down with holidaying differently this year, then a group tour is definitely for you. Can't wait? Enter to win your dream holiday to Tasmania right over here. Good luck!
Image credit: Emilie Ristevski, Jason Charles Hill, Jess Bonde, Stu Gibson, Melissa Findley
Editor's note: This article is sponsored by Intrepid Travel and proudly endorsed by Urban List. Thank you for supporting the sponsors who make Urban List possible. Click here for more information on our editorial policy.