Summer is well and truly here and that means one thing and one thing only—pool hangs (preferably with a cocktail in hand). Fortunately Australia is full of dreamy holiday houses with pools that were just made for lounging around AKA the perfect place for you and your mates to vacay at.
So, fire up the group chat and check out eight of the best Airbnb pool stays across australia.
Ocean Farm
Gerringong, New South Wales
About an hour south of Sydney lies the charming Gerringong. There's a sense of rugged seclusion that you'll find in the area and in the property known as Ocean Farm itself. The coastal views from the king-sized beds should be enough of a sell, though just in case you're not quite convinced, take a look at that pool. Ocean Farm will fit 12 guests at $1,665 a night. Book in the squad here.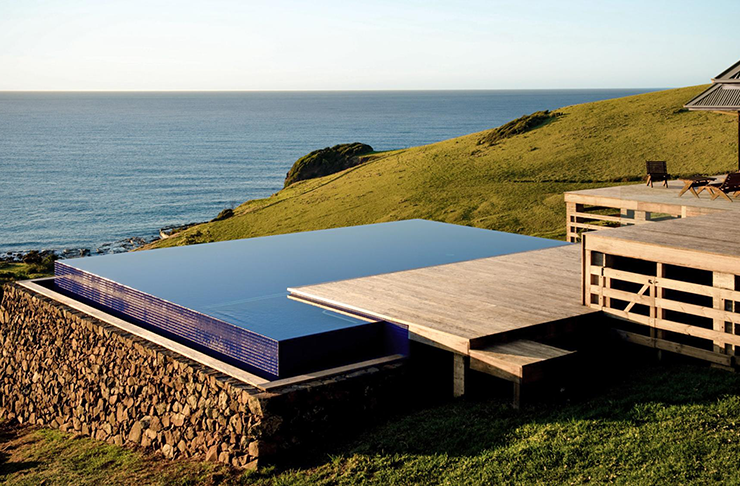 The Guest House
Foxground, New South Wales
This one's for the love birds, or two really good mates. The Guest House looks over the lush, sprawling hills of the cattle farm it's built upon. More than half of the walls within are made of glass, which offers unobstructed views of the serene property. There's a firepit for barbecuing up a wholesome meal and an infinity pool to while away the afternoon in. Book the guesthouse for around $350 a night.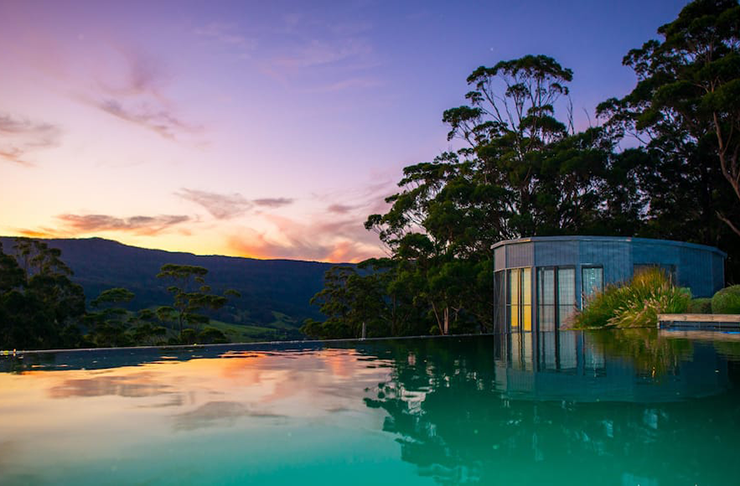 61 Murphy Street
Port Douglas, Queensland
61 Murphy Street is best described as the Australian dream of your dreams. The three-level beaut sits on Murphy Street in Port Douglas, which is otherwise known as the millionaire's mile. Plenty of marble, terraces off each level and a sizable pool by the porch—it checks out. You'll fit around eight people in 61 Murphy Street for around $1,450 a night. Book it here.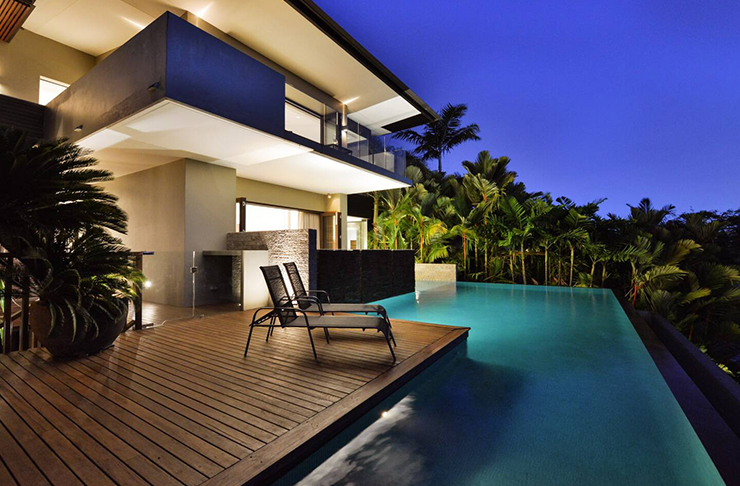 Luxury Gold Coast Hinterland Villa
Mount Nathan, Queensland
If you like your pools with sweeping views, this beauty is for you. Nestled in the stunning Gold Coast hinterland, this villa's crown jewel is the 25 metre pool that comes equipped with a pavilion for dive-in movies. There's also a hot tub with an open fireplace to soak up all the holiday vibes. The best bit? Dogs and even horses are welcome so you can bring the whole gang along. The villa sleeps 10 people and goes for around $490 a night. Book it here.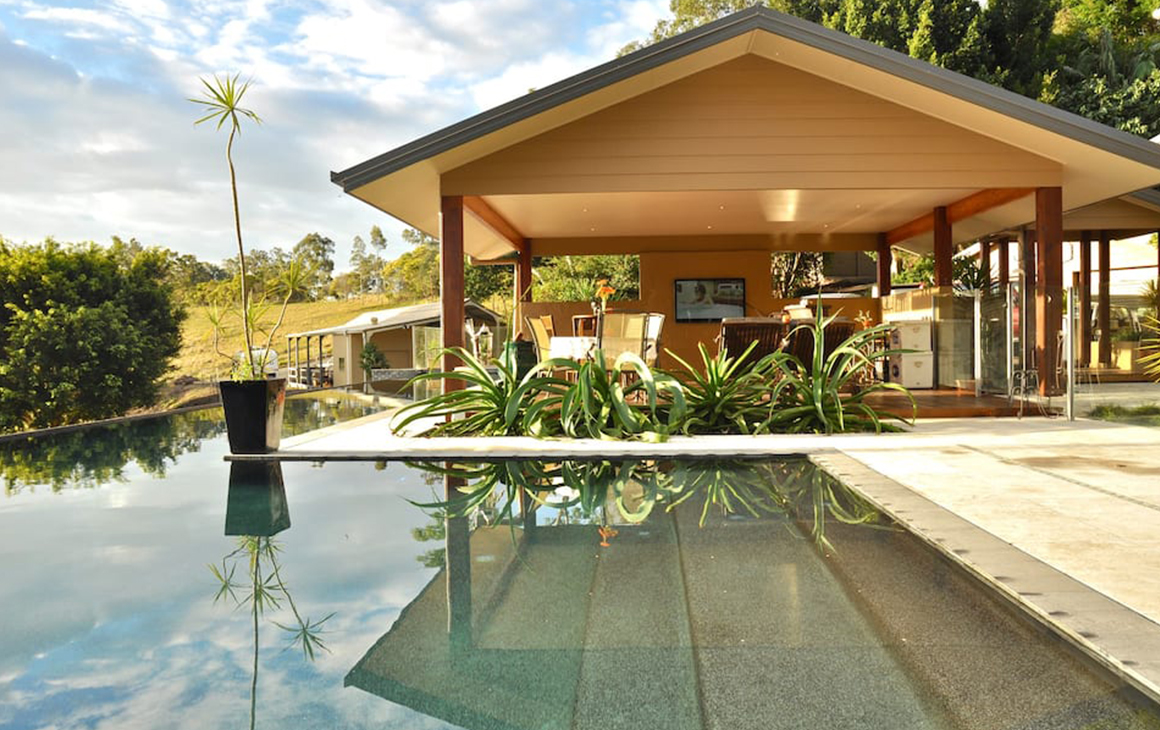 Callula
Noosa Heads, Queensland
There's a certain romance that Aussies find in placing a body of water by more water, and that formula has been nailed at Callula. Tucked in the waterways by Noosa Heads, this luxe waterside villa will house up to 10 mates; the contemporary interior and balconies make for a pleasant stay, but it's the pool by the inlet that sets this one apart as the ultimate Queensland getaway. You can also explore Noosa Heads with the included paddle boats and kayaks. Book Callula for up to 10 guests at $1,430 a night here.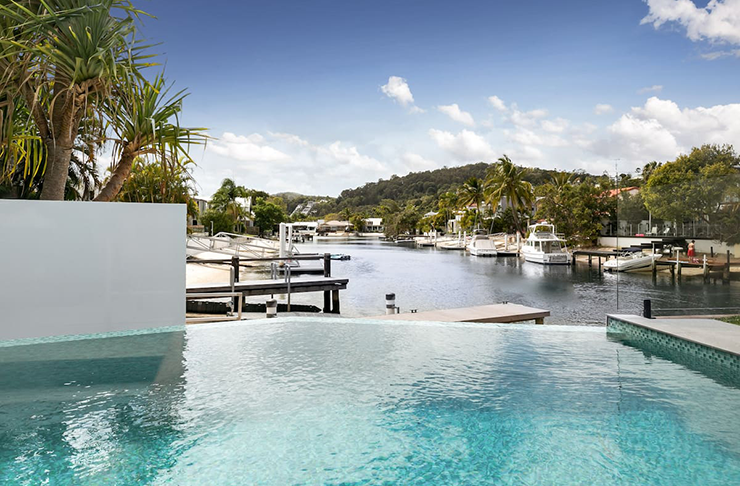 Balinese Princess
Margeret River, Western Australia
This two-storey mansion has left no stone unturned. Rose gardens, over two hundred square metres of wall-to-wall glass windows overlooking the coastline and en suites in three out of four of the bedrooms. Float across the marble floors before you reach the backyard which looks out to the beach, with the only obstruction being the 28-metre infinity pool. Book this beachside abode for up to nine people at just under $1200 per night here.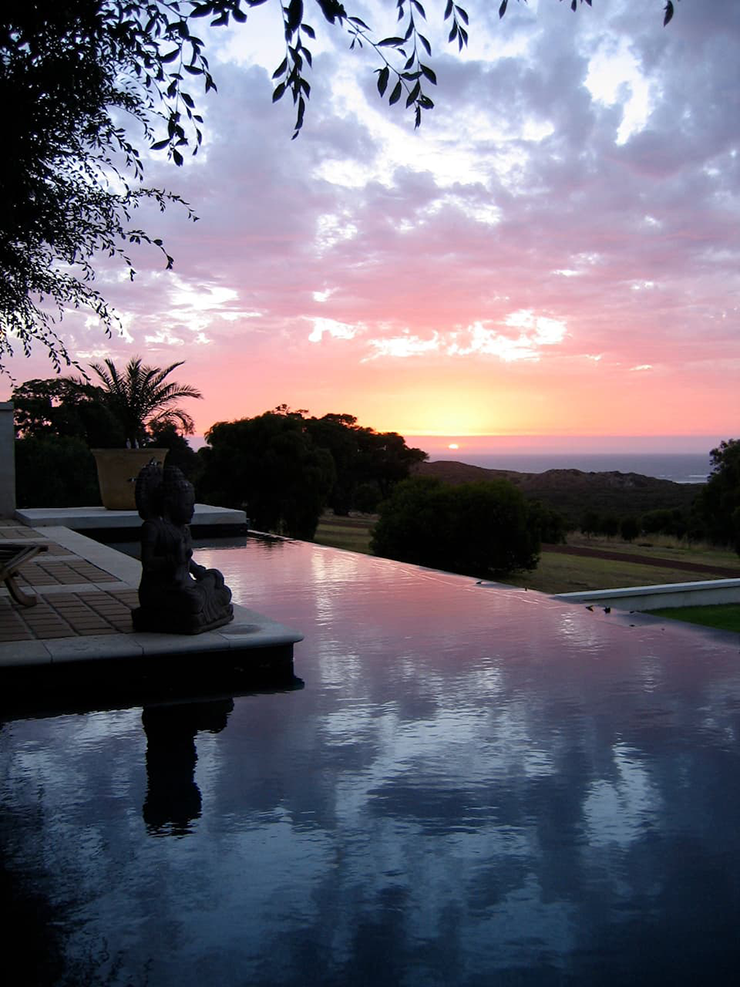 Holiday Dream
Rosebud, Victoria
That's not a pool, this is a pool. This Rosebud gem has been given the Palm Springs treatment so that you can switch into ultimate vacay mode. You've got yourself—and the squad—a tennis court, an outdoor entertainment area for some serious barbecuing, a jacuzzi, an in-ground trampoline and, of course, a kidney-shaped pool just like you'd find in Cali. Book in for up to 10 at around $1326 a night.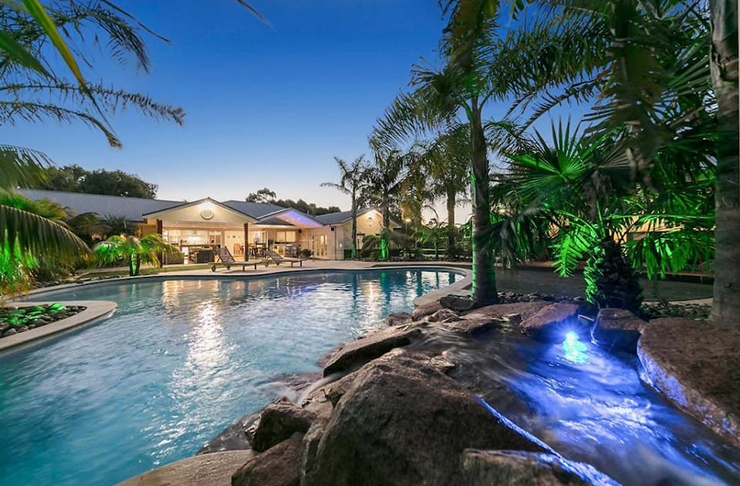 Mount View Estate
Yarra Junction, Victoria
Mount View Estate is hidden in the mountains of Victoria's premier wine region, so if you feel like you need to leave the house for whatever reason, take solace in the fact that you can find wine in almost any direction. This hillside manor has five king bedrooms, and four with en suites that overlook Mount Donna Buang, just as the infinity pool does, too. Great for a multi-couple weekend away, it'll set you back $1543 for 10 people. Book it here.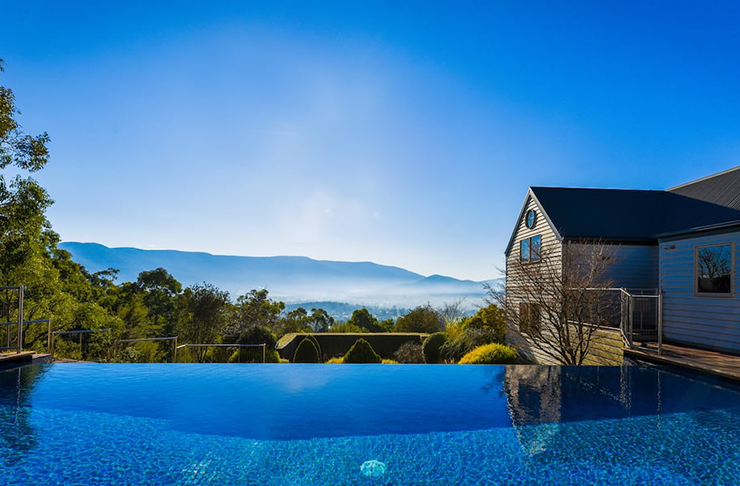 Start planning your next trip, whenever that may be, via our Travel section.

Image credit: The Range, Ocean Farm, The Guesthouse, 61 Murphy Street, Callula, Balinese Princess, Holiday Dream, Mount View Estate, Drew Dau.