Turquoise waters, rugged cliffs, native flora and laid-back towns—The Coromandel is pretty much paradise. And with more than 400km of idyllic coastline to explore, it's no surprise that the region is also home to some of the country's most beautiful beaches.
Found in New Zealand's North Island, The Coromandel is a much-loved holiday destination for travellers and a gem for those who are lucky enough to live there. Explore the intricate rock formations by kayak, head out with mates on a boat to catch fresh fish for dinner, dig for hot water in the sand and pitch your tent by the seaside.
Just bring your sunscreen, a surfboard and don't forget to set your automatic replies to 'out of office'—here are the best beaches in The Coromandel.
Hot Water Beach
Hot Water Beach is pretty extraordinary. If you head to the beach within two hours either side of low tide, you'll be able to discover underground natural hot springs that filter up through the sand. Beach goers dig to find just the right temperature (in some spots the water can reach up to 64°C) to create their very own spa pool. Shovels can be hired at a local shop. The local iwi of Hot Water Beach, Ngāti Hei, kindly request that visitors don't eat or drink in the pools or leave rubbish at the beach. Be sure to only swim in the ocean if the beach is patrolled and between the flags.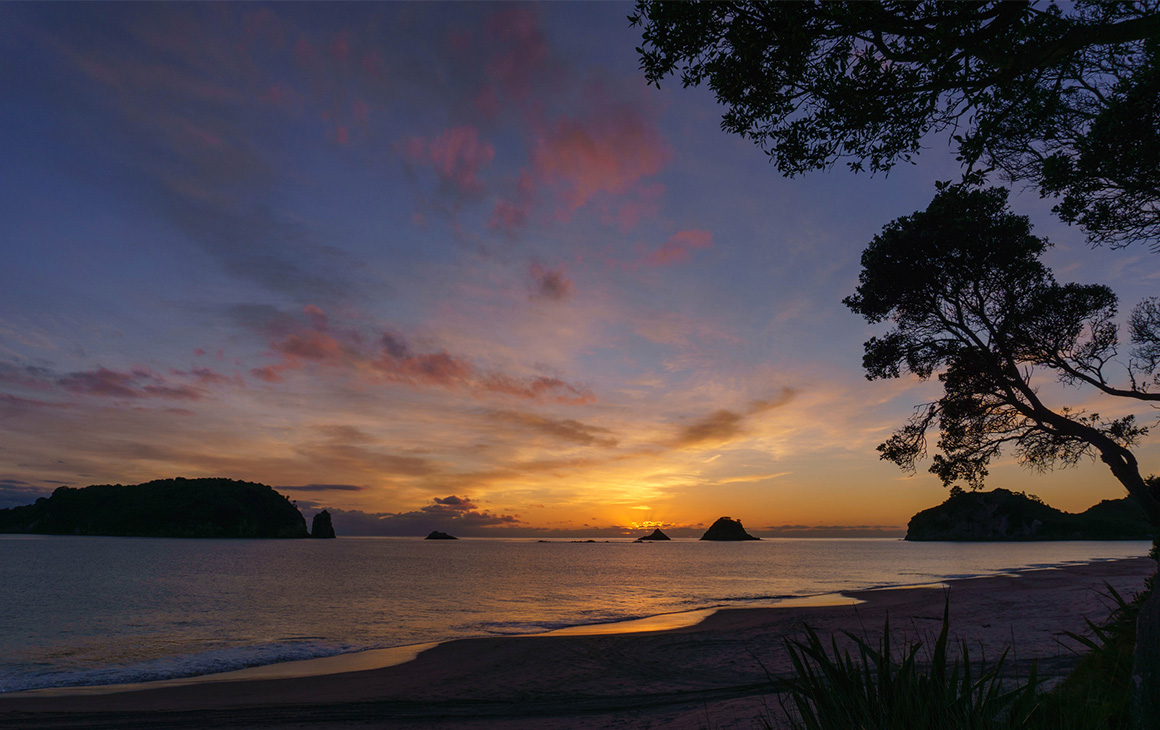 Hahei Beach
The pinky golden sand at Hahei Beach, located one hour from Coromandel Town, is the ideal place to relax at under an umbrella and read a good book. The beach is also sheltered—so swimming, fishing and stand up paddle boarding are other great activities to do there. If you would like to stay at Hahei Beach for more than a day there's a holiday park and campsite right on the sand with all the amenities you need—it's one of our favourite spots in the Coromandel to stay. If you're sleeping in your van, make sure you book a beachfront site. Venture to the southern end of the beach to see the Te Pare historic reserve, an ancient Māori pa site—the views from the headland are stunning.
Cooks Beach
You can drive to Cooks Beach, but we recommend catching the ferry from Whitianga Wharf to Ferry Landing. From there, ride the shuttle (just note, this needs to be booked in advance here) or walk to the 3km beach, named after Captain James Cook who anchored there in 1769 to explore Mercury Bay. Cooks Beach has a relaxed seaside community that grows steadily in the summer months—who wouldn't want to swim in calm waters and eat fish and chips by the sea? Be sure to walk up to the Shakespeare Cliff Scenic and Historic Reserve for panoramic views and on to Lonely Bay, a secluded and pretty spot with pohutukawa trees.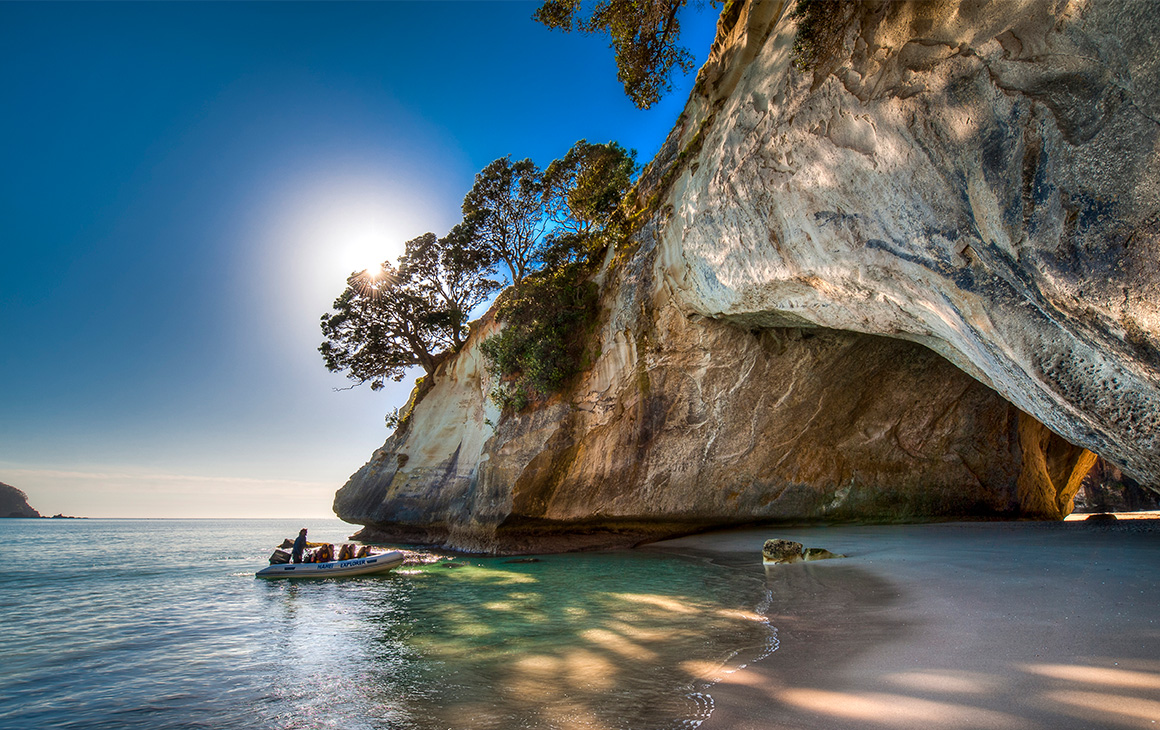 Cathedral Cove
If you've ever Googled The Coromandel, chances are you've seen the famous picture of Cathedral Cove. It's one of the most popular—and busiest—spots on the peninsula, and for good reason. The walk to the naturally formed archway begins at Hahei Beach making its way along the cliff top. It'll take you about 45 minutes one-way, perfect timing to take a dip in the sea once you're there to refresh. To get a good shot for the 'Gram of the cathedral-like arch, we recommend heading there early or late in the day to beat the crowds, or better yet, visit outside of the summer months.
New Chum Beach
You won't find any shops or car parks near Wainuiototo Bay, also known as New Chum Beach. Instead, the golden sand is fringed with native bush and on a sunny day the sea is bright blue. New Chum often finds itself on New Zealand's most beautiful beaches' lists and it's one of our favourites in The Coromandel. Beginning in Whangapoua Beach you'll walk for around 30 minutes until you'll reach New Chum Beach. Pack a picnic lunch, spend an afternoon there and forget about the time.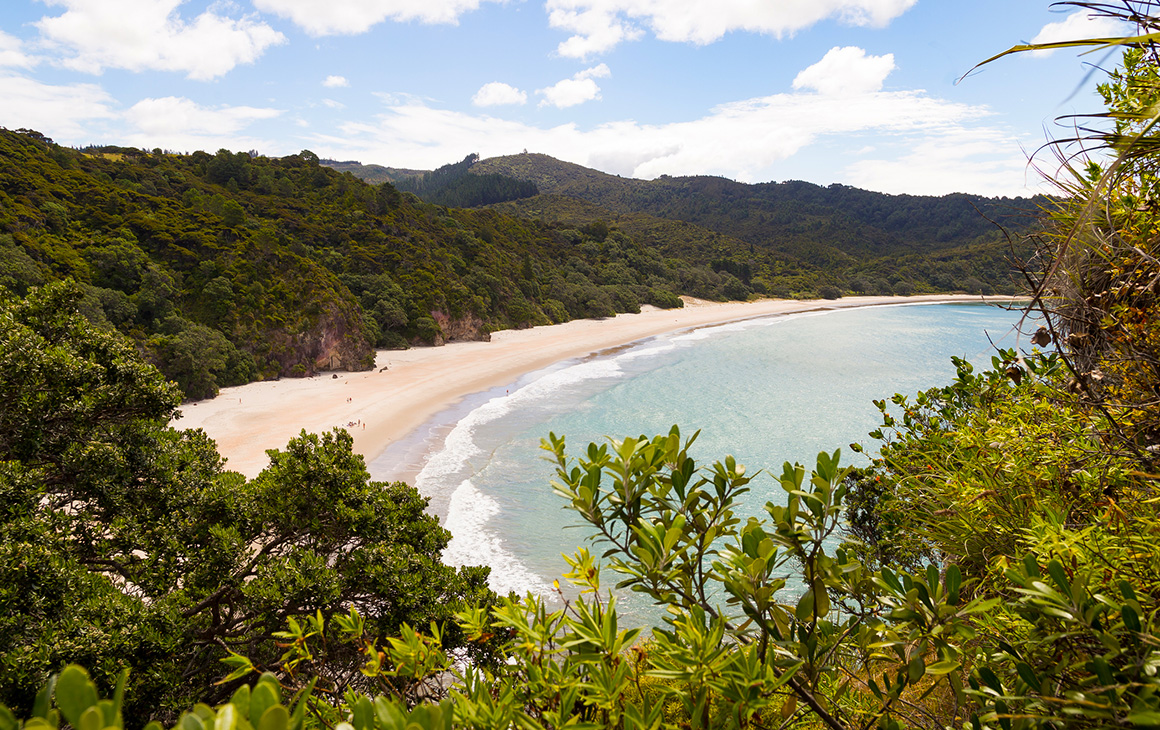 Tairua Beach
Situated across the harbour from Pauanui is Tairua Ocean Beach, an east coast beach that's loved for its surf. It'll take you around two hours to drive there from Auckland. The waves at Tairua can be powerful, so if you're a beginner this may not be the right place to take out your long board. Tairua Beach is also located at the base of Mt Paku, a volcanic peak that's over seven million years old. Hike up the short but steep track to the summit and see sweeping 360-degree views of Pauanui, Tairua and the estuary. The beach is also a great spot for surfcasting or heading out on a charter—try your luck at catching snapper and kingfish.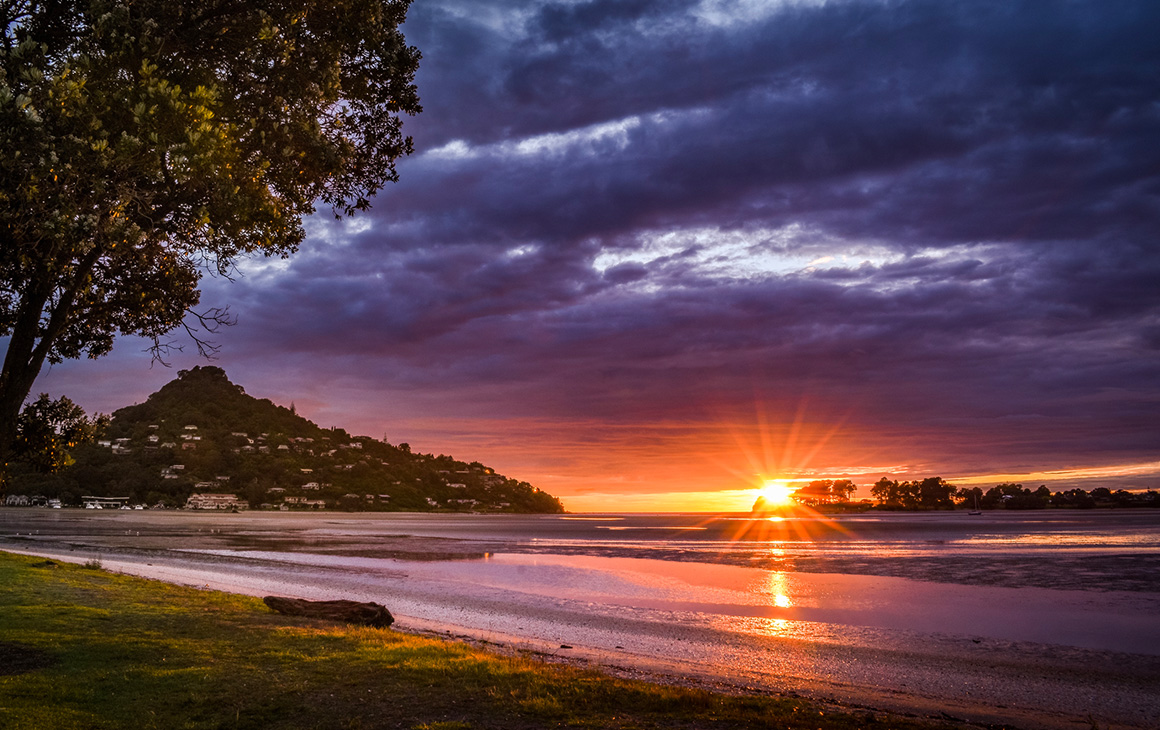 Te Karo Bay
If you want to escape the crowds, head to Te Karo Bay, also known as Sailors Grave, which is just north of Tairua. The beach is home to the oldest sailor's grave in New Zealand, surrounded by a white picket fence. Te Karo Bay is great for surfing and swimming and the Pohutukawa Grove Recreation Reserve provides a shaded spot for a picnic. There's also a lovely scenic walk you can do from Te Karo Bay that will take you around the headland to Otara Bay. The walk should take you around an hour round trip.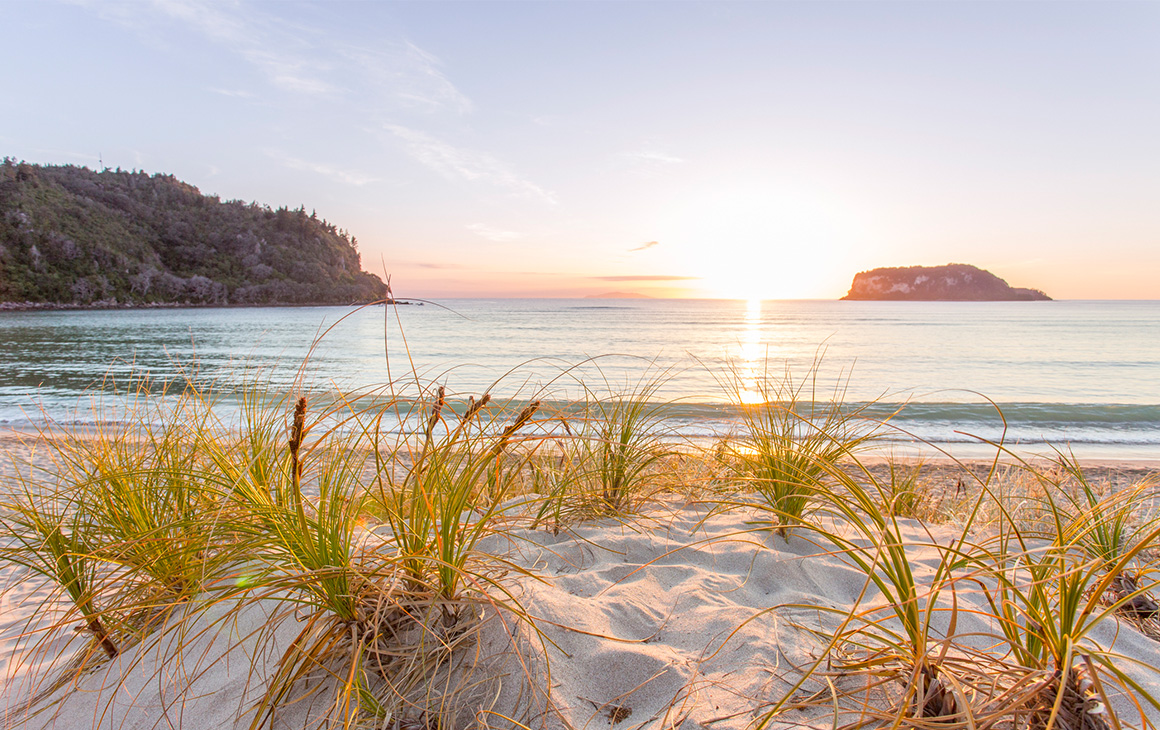 Whangamata Beach
Grab your board and hit the waves at Whangamata Beach, one of New Zealand's most famous and best surf breaks, drawing in travellers from all around the world. Whangamata Beach is located on the southeast coast of The Coromandel and produces both right and left waves for surfers to carve. Be sure to kayak out to Whenuakura Island, also known as Donut Island to the locals, coined due to its unique volcanic blowhole, which encapsulates a blue lagoon in the centre of it. A treasure in the Coromandel, Whenuakura Island is also a wildlife sanctuary with native flora and fauna.
Otama Beach
With clear blue water, a 2km long stretch of squeaky white sand and few people to be seen other than locals, Otama Beach is our idea of heaven. Located on the northeast coast of The Coromandel, it'll take you about 20 minutes to drive there from Whitianga. Otama Beach is mostly underdeveloped, with only a handful of holiday homes dotted around the hills overlooking the beach. Spend a few nights there and you'll see why Otama wraps up our list of best beaches in the Coromandel Region.
Already planning your trip to the Coromandel? Check out what to do there.
Image Credit: Getty, Tourism New Zealand, Morgan Guérault, Maximilian Müller, Jamie Fraser