It's said that 2021 is the year of the "backyard holiday", the year we overpack our cars with surfboards, fishing rods and footballs and hit the highway in a bid to explore what our glorious country has to offer. And of course, with the wide, open highway comes an endless savannah of retro motels.
While motels definitely arrived in Australia during the 50s, they really took flight as the hallmark of the great Aussie road trip during the 70s. And it should come as no surprise that with the halting of international flights, the good old, trusty motel (literally a contraction of "motor" and "hotel") is pinned for a revival as we all put some pedal to the metal and ditch our buzzing cities for a stint of R&R in the big, wide, open land of Oz.
Check out the best motels in Australia.
The Sunseeker
Byron Bay, NSW
The Sunseeker is an 80s brick motel throwing it back to some slower, more conscious times. This bungalow-style stay will see you lounging poolside, perusing international reads from the 100-strong book library (specifically curated by Lora Ward if Good Publishings), getting your caffeine fix from the dedicated coffee cart or even kicking it back on the plush daybeds with a cocktail in hand. There are several types of tropical rooms here, all with custom-made furnishings and views of The Sunseekers poolscape.
Riverfront Motel And Villas
Hobart, Tasmania
A real motel in every sense of the word, Riverfront Motel And Villas is located on the Derwent River and pretty much just around the corner from MONA. Having originally been built during the 1950s, new ownership over this property back in 2003 saw a whole lot of love being poured back into its foundations and now this Tasmanian motel sports a fresh bistro, an outdoor solar heated lap pool, a river walkway, a half tennis court, coin-operated laundry and some pretty stellar picnic spots on its seven-acre stretch.
La Costa Motel
GOLD COAST, QUEENSLAND
Back in the day, motels were a huge part of the Gold Coast's tourism image and La Costa Motel is just one of the prevailing establishments still standing today. Having been built back in the 1950s, La Costa Motel was part of the original "Highway Heritage" slew of motel builds on the Gold Coast. The weatherboard-clad boasts a whole lot of beach shack vibes and sits about a 50-metre walk from the beach.
Oval Motel
Bendigo, Victoria
Propped up in the heart of Victoria's Bendigo, Oval Motel prides itself on taking up some prime real estate. Run by the legendary Carolyn and Gary, this motel has a longstanding history and a rep nothing short of amazing. Close to the standout Boundary Hotel and the coffeehouse known as Harvest, this little slice of heaven is kind of a big bucket list stay in Australia.
The Sails Motel & Pool Club
Brunswick Heads, NSW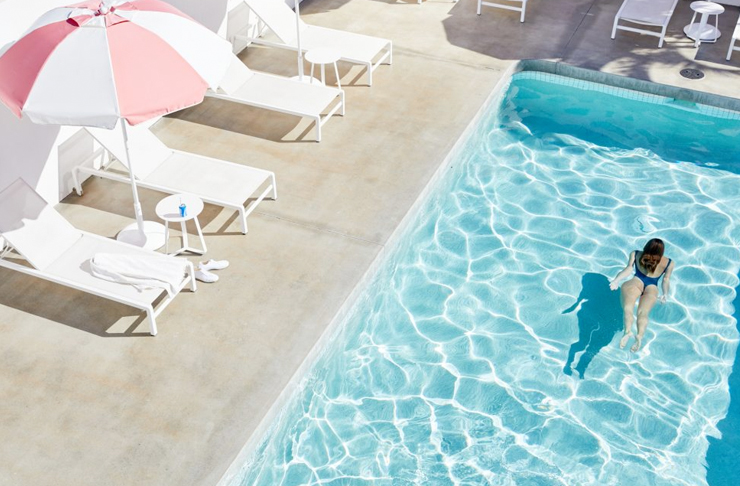 Look, there aren't many motels that hit quite like The Sails Motel in Brunswick Head does. The Sails offers up 22 separate rooms in a Palm Springs-inspired setting which may or may not (read: it will) make you feel like you've jetted across the world to Coachella. There's a beautiful blue swimming pool here with white sun chairs and striped brollies, an on-site pizza restaurant and pool club here stocked with all the vino.
Chalet Motel
Brunswick Heads, NSW
Just down the road, you'll also find The Chalet Motel, a boutique motel giving you all the bang for your buck. Offering up 12 stylish double, queen and family-style motel rooms, this stunning motel is just minutes away from bakeries, old cinemas and river swimming. The motel itself also has a saltwater swimming pool.
10 Hastings Street Boutique Hotel & Cafe
Noosa Heads, Queensland
It's hard to believe 10 Hastings Street cuts it as a motel (the beautifully adorned suites and beachfront dining situation would have you think it's a hotel no doubt). Holding several studio rooms and a couple of bigger bedroom apartments, this intimate motel sprawls out to give you unparalleled views of Noosa's Main Beach. The cafe here is also a local haunt with an outdoor terrace and beach indoor area (dog-friendly provided Fido is on a leash) which plates up plenty of vegetarian and gluten-free feeds. If you're here for breakfast, the sour cherry fruit loaf toasted with local honey, fresh berries and whipped Meredith's goat's cheese is a vibe.
Motel Nomad
Cairns, Queensland
Motel Nomad takes your typical idea of a "roadside motel" to an entirely new level. While this building was put together over 30 years ago, today it stands with a fresh new refurb and with over 50 suites, studios and apartments. The motel, which takes its design from the quintessential Queenslander home (raised and with a wraparound verandah) is surrounded by palm trees, decked out in festoon lights and features a backyard pool loaded with all the inflatables you could imagine.
Indian Ocean Hotel
Scarborough, Western Australia
She's not an official motel—we know, but Indian Ocean Hotel sports some serious retro vibes that can only be described as true shabby-chic, the DNA of every great motel ever. This hotel was built back in 1968 as part of the White Sands Hotel (yep, like the famous Sands Hotel in Las Vegas). It also banks up some great music stories from the 70s when it was used as a place for bands to stay including the likes of Led Zeppelin, The Rolling Stones and AC/DC. With its epic fitout, you'll catch everything from faded hotel signs, arcade games, heavy brickwork, glowing pool lights, carpet floors and disco balls—honestly, it's like the official set of Birdcage.
Now checkout Urban List's discount hub.
Image credit: The Sails Motel, The Sunseeker, Riverfront Motel & Villas, La Costa Motel, Oval Motel, The Sails Motel, Chalet Motel, 10 Hastings Street Boutique Hotel, Motel Nomad, Indian Ocean Hotel
Editor's note: Urban List editors independently select and write about stuff we love and think you'll like too. Urban List has affiliate partnerships, so we get revenue from your purchases.